Disney brengt enorm veel klassiekers opnieuw uit in live-action vorm. Sommigen werken beter dan anderen, maar waar zit Aladdin op deze schaal je leest het hier.
The good,
Laten we beginnen met het positieve van de film. Natuurlijk het verhaal, het klassieke verhaal is tijdloos en blijft ook in deze setting een enorm mooi verhaal over hoe je niet beperkt hoeft te worden door je afkomst. Disney heeft tevens enorm uitgepakt met de visuele aspecten van de film. Alles ziet er enorm gelikt uit en de kleuren spatten van het scherm af, daar komen de mooie achtergrond geluiden nog bovenop en je hebt een enorm goede sfeer neergezet.
The bad,
Aladdin is nostalgie voor mij, ik weet nog steeds hoe de hele film gaat zelfs na al die jaren sinds ik hem voor het laatst heb gezien. Het vervelendste is niet het gebrek aan Robin Williams, maar de aanpassing aan wat juist enorm leuke delen waren. Zo duwt de Sultan geen koekjes in de bek van Iago en zijn er andere grappige momenten verdwenen. Het is zonde dat zulke momenten juist uit de film zijn gehaald.
And the ugly
Disney heeft best wel een fout gemaakt met het overbrengen van de nummers die in de klassieker voorbij komt. Hoewel de tonen weer erg catchy zijn en leuk blijven, werkt de zang niet echt mee. Zoals in 'A whole new world' en 'You have never got a friend like me' het voelt verkeerd en alsof er iets mist. De stemmen voelen vaak gewoon aan alsof ze niet erbij passen. Het einde heeft ook een kleine plottwist ten opzichte van de eerste.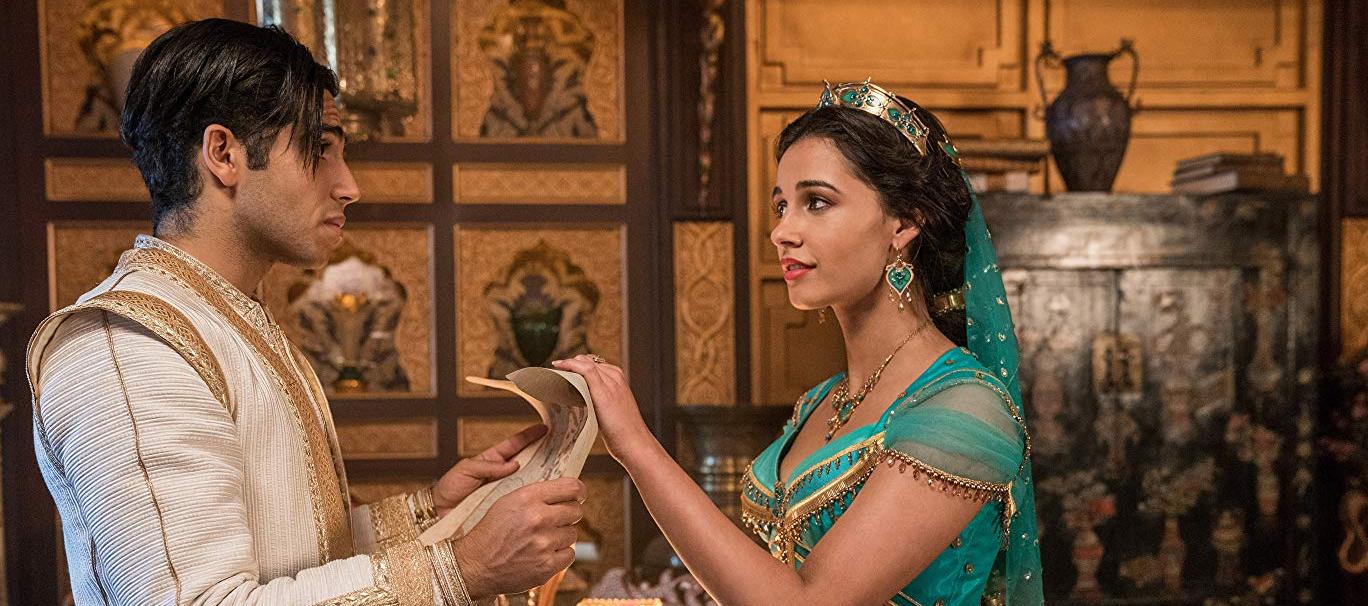 Conclusie
Hoewel sommige elementen erg goed werken zoals de sfeervolle en prachtige omgevingen. Daartegenover staat weer dat Disney erg graag alle nummers uit de oorspronkelijke film erin propt wat bij lange na niet altijd goed werkt. Ze hadden beter het in de trend van Jungle Book kunnen doen waar bepaalde nummers alleen geneuried werden. Het is al met al een prima film die misschien voor mij te veel door nostalgie werd verpest, maar zeker een leuke familiefilm.
Cijfer: 6.7