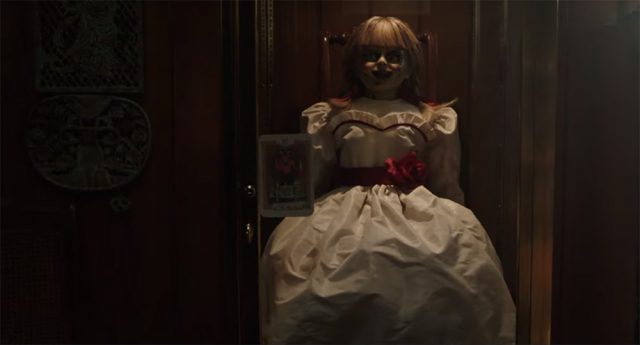 ANNABELLE COMES HOME is het derde deel van de succesvolle New Line Cinema Annabelle- filmreeks met in de hoofdrol de bezeten pop uit The Conjuring Universe.

Vastbesloten om Annabelle ervan te weerhouden om nog meer verwoesting aan te richten, brengen de demonologen Ed en Lorraine Warren de bezeten pop naar een afgesloten kamer met bovennatuurlijke objecten in hun huis. Annabelle wordt opgesloten achter heilig glas, een glazen vitrine gezegend door een priester. Maar er volgt een onheilspellende nacht vol afschuw als Annabelle de boze geesten in de kamer doet ontwaken, die allemaal hun zinnen hebben gezet op een nieuw doelwit – de tienjarige dochter van de Warrens, Judy, en haar vrienden.

Gary Dauberman, scenarioschrijver van de Annabelle-films, IT en The Nun, maakt met deze film zijn regiedebuut. De film word geproduceerd door Peter Safran (Aquaman), die alle films binnen The Conjuring-franchise heeft geproduceerd. Ook James Wan (Aquaman) het brein achter het The Conjuring Universe, heeft meegewerkt aan deze productie.

In de film spelen McKenna Grace (TV-serie The Haunting of Hill House, Gifted, Captain Marvel) als Judy, Madison Iseman (Jumanji: Welcome to the Jungle, Goosebumps 2: Haunted Halloween) als haar oppas, Mary Ellen; en Katie Sarife (TV-serie Youth and Consequences en Supernatural) als de vervloekte vriend Daniela. Patrick Wilson (Aquaman, The Conjuring en de Insidious- films) en Vera Farmiga ( The Conjuring films, de verwachte Godzilla: King of the Monsters) kruipen opnieuw in de huid van de Warrens.

Dauberman regisseerde de film vanuit een scenario dat hij schreef gebaseerd op het verhaal van Dauberman & Wan. Richard Brener, Dave Neustadter, Victoria Palmeri, Michael Clear, Michelle Morrissey en Judson Scott zijn uitvoerend producent.
Het team achter de schermen van Dauberman bestond uit 'director of photography'Michael Burgess (The Curse of La Llorona), productie ontwerper Jennifer Spence (Annabelle:Creation, The Nun), editor Kirk Morri (Aquaman), kostuumontwerper Leah Butler (Annabelle:Creation) en muziek door Joseph Bishara (The Conjuring- films). New Line Cinema presenteert, een Atomic Monster / Peter Safran Productie, Annabelle Comes Home.
 ANNABELLE COMES HOME is vanaf 27 juni 2019
te zien in de Nederlandse bioscoop