Blumhouse heeft vrijdag een tweetal films uitgebracht op Amazon Prime! Hulde! Of niet?
Ik heb één van de twee films bekeken: Bingo Hell. Deze film is geregiseerd door de niet zo bekende Gigi Saúl Guerrero. De film wordt geclassificeerd als een thriller. 
In Oak Springs leeft een groepje koppige bejaarden die meemaken hoe hun buurt steeds moderner wordt. Lupita (Adriana Barraza) is een beetje de leider die het groepje bij elkaar probeert te houden, als een community en familie. Totdat een mysterieuze type, Mr. Big, (Richard Brake) de lokale bingohal overneemt. Mr. Big heeft hele andere vernietigende plannen met die o zo geliefde community van Lupita…
Het irriteerde me vooral dat er dingen gebeurden zonder enige uitleg. Hierdoor vraag ik me af "hoe kan dat; hoe is dit mogelijk?" Hoe zijn bepaalde personages ineens van belang? Hoe komt Mr. Big aan bepaalde gaves? Dit soort dingen worden zelden uitgelegd in horrors of thrillers die meer als horror bedoeld zijn, en daar kan ik niet zo heel erg goed tegen. Plot details doen ertoe mensen!
Hoe dan ook, de betekenis van deze film werd op een sterke manier getoond: geld maakt niet gelukkig; verslaving en gokken is slecht en heeft verschrikkelijke gevolgen. Ook al miste ik de uitleg over de manier waarop Mr. Big bepaalde dingen voor elkaar kreeg, toch is de boodschap meer dan duidelijk. Dus ik was blij dat te zien. Al helemaal op de dag dat online gokken gelegaliseerd is in Nederland.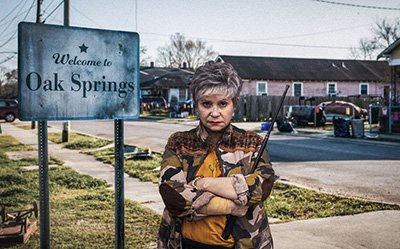 Als ik het over de cast heb, dan was Richard Brake geweldig. Je kent hem wellicht door kleine rollen in films zoals Batman Begins (2005) en Spy (2015). Maar in Bingo Hell stal hij de show op gebied van acteerwerk. Hij is in staat om een overtuigend griezelig/gestoord personage neer te zetten. In dat opzicht heeft hij de film gered. De wat oudere acteurs waren oké: soms overdreven, soms heel goed.
Al met al ben ik tevreden met de boodschap en het acteerwerk van Richard Brake. Voor de rest miste ik echt belangrijke details en uitleg over bepaalde keuzes. Er werd geprobeerd het thriller-aspect te benaderen, maar naar mijn mening was de uitkomst daarvan niet heel sterk. Ik geef deze film dan ook 2.5 van de 5 sterren, oftewel een 5/10.
De overige Blumhouse titels zijn: Black As Night, Madres ( 8 oktober) en The Manor ( 8 oktober )
Foto © Amazon Video Prime