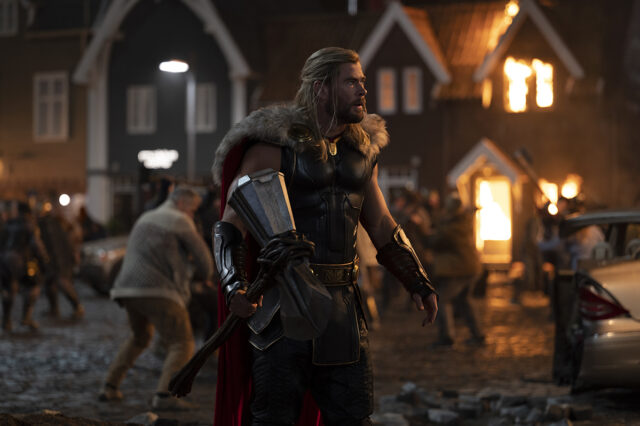 Een nieuwe trailer en poster zijn nu beschikbaar voor Marvel Studios' "Thor: Love and Thunder", waarin nieuwe details worden onthuld over het nieuwste avontuur van de God van de Donder – inclusief een tocht naar Olympus waar Zeus (Russell Crowe) de scepter zwaait. 

In de film maakt Thor (Chris Hemsworth) een nieuwe soort reis: een zoektocht naar zichzelf. Maar zijn pensioen wordt onderbroken door de galactische moordenaar Gorr (Christian Bale), die uit is op de vernietiging van de goden. Om de dreiging te bestrijden, roept Thor de hulp in van Valkyrie (Tessa Thompson), Korg (Taika Waititi) en ex-vriendin Jane Foster (Natalie Portman), die op onverklaarbare wijze zijn magische hamer, Mjolnir, hanteert als de Machtige Thor. Samen beginnen ze aan een spannend kosmisch avontuur om het mysterie van de wraak van Gorr te ontrafelen en hem te stoppen voor het te laat is.

"Thor: Love and Thunder" is geregisseerd door Taika Waititi en geproduceerd door Kevin Feige en Brad Winderbaum en draait vanaf 6 juli in de bioscopen
Bron en foto © Marvel Studios 2022. All Rights Reserved.