Comedy Central's "South Park" de serie begon op 13 augustus 1997, en is gebaseerd op de VHS gedeelde, geanimeerde short getiteld "The Spirit of Christmas". Trey Parker en Matt Stone zijn de medebedenkers van South Park. Parker, Stone, Anne Garefino en Frank C. Agnone II zijn de uitvoerend producenten van het met een Emmy® en Peabody® Award bekroonde "South Park". Eric Stough, Adrien Beard, Bruce Howell en Vernon Chatman zijn producenten. Christopher Brion is de creatief directeur van South Park Digital Studios. De website van South Park is SouthPark.cc.com.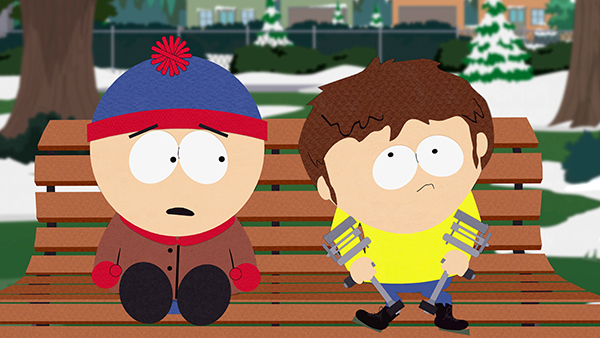 MTV Entertainment Studios uitgebreide deal met Parker en Stone omvat de verlenging van "South Park" op Comedy Central tot 2027 en een ongekende 30ste seizoen van de serie. Naast de verlenging van de serie omvat de overeenkomst 14 originele "South Park", exclusief voor Paramount+, waaronder "South Park: The Streaming Wars" Parts 1 & 2, "South Park: Post COVID" en "South Park: Post COVID: The Return Of COVID". De serie heeft tot nu toe vijf Emmy Awards gewonnen en een George Foster Peabody Award.
Alle nieuwe afleveringen zullen na de première in HD te streamen zijn op SouthPark.cc.com, CC.com en de Comedy Central App.
Bron en foto © Comedy Central