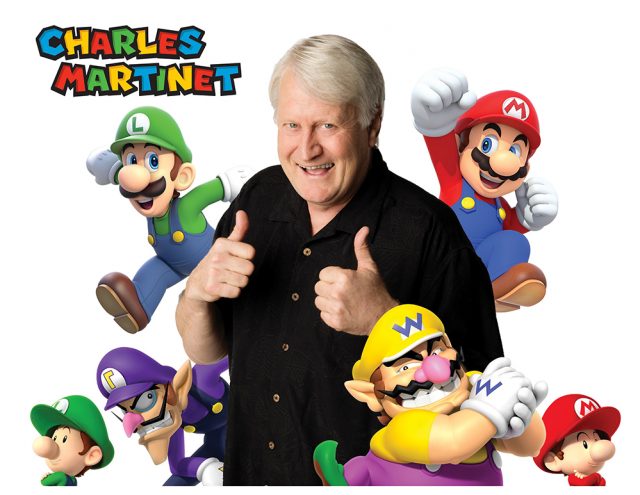 Dé stemacteur van één van de meest iconische videogame karakters ooit komt naar de wintereditie van Heroes Dutch Comic Con. We hebben het over niemand minder dan Charles Martinet, die al sinds jaar en dag de stem is van 'Mario'.
In 1994 begon Charles te werken als stemacteur bij Nintendo. In Super Mario 64, Super Mario Bros., Super Show, Super Mario Bros. 3 en Super Mario World cartoons klonk de stem van het karakter als een stereotype Italiaans-Amerikaanse man met een diepe, rauwe stem. Martinet realiseerde zich dat die stem moeilijk verstaanbaar was voor kinderen en maakte hem vriendelijker en zachtaardiger, wat resulteerde in de stem van 'Mario' zoals wij die vandaag de dag kennen.
Maar Charles verzorgt naast de stem van de besnorde loodgieter ook al jaren die van 'Luigi', 'Wario', 'Waluigi', 'Toad', 'Baby Mario', 'Baby Luigi' en een aantal anderen uit dezelfde series. Gamers kunnen zijn stem ook herkennen van videogames zoals Vigoro en Skies of Arcadia. Ook deed hij de stem van de draak 'Paarthyrmax' in The Elder Scrolls V: Skyrim, 'Homunculus' in de Konami PlayStation 2, Xbox en Windows game Shadow of Destiny, 'Fowl Mouth' in Damage en diverse stemmen in de Reader Rabbit en The Cluefinders games.
Op 24 en 25 november kan jij een handtekening kopen of met hem op de foto gaan. Charles zal beide dagen aanwezig zijn om zijn fans te ontmoeten. Tickets zijn te koop op www.dutchcomiccon.com