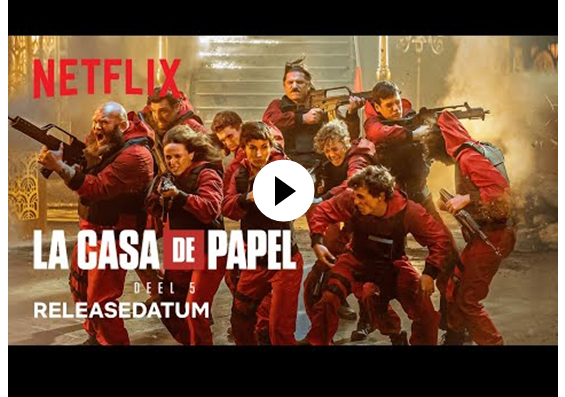 Het laatste seizoen van La casa de papel, de bekendste overval uit de geschiedenis, wordt in twee delen gelanceerd; de eerste vijf afleveringen zijn vanaf 3 september te zien op Netflix, de laatste vijf afleveringen op 3 december 2021.
Álex Pina, maker van de serie: "When we began to write Part 5 in the midst of the pandemic, we felt that we had to change what was expected from the ten-episode season and used every tool we could to create the sensation of a season finale or series finale in the first volume itself. We decided to work in an extremely aggressive genre, putting The Gang on the ropes. In volume 2, we focus more on the emotional situation of the characters. It is a journey across their sentimental map that connects us directly to their departure."
Over La casa de papel: Deel 5
De bende zit al meer dan 100 uur opgesloten in de Spaanse bank. Ze zijn erin geslaagd Lisboa te bevrijden maar voelen zich verslagen nu ze iemand van de groep zijn verloren. Sierra heeft El Professor gevangen genomen en voor het eerst hebben ze geen ontsnappingsplan. Net wanneer het lijkt alsof het niet erger kan worden, komen ze tegenover hun machtigste vijand ooit te staan: het leger. Het einde van de grootste overval uit de geschiedenis nadert… Wat ooit begon als een roof, lijkt nu te veranderen in een oorlog.
Bron en foto © Netflix