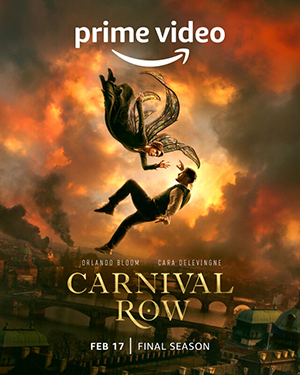 Prime Video presenteert de officiële trailer van het tweede en laatste seizoen van het fantasy-drama Carnival Row. De langverwachte 10-delige serie verschijnt 17 februari exclusief op Prime Video.
Seizoen twee van Carnival Row wordt afgetrapt met een reeks gruwelijke moorden welke worden onderzocht door voormalig inspecteur Rycroft Philostrate a.k.a. Philo (Orlando Bloom). Vignette Stonemoss (Cara Delevingne) en de Zwarte Raaf plannen wraak voor de onrechtvaardige onderdrukking door de menselijke leiders van The Burgue: Jonah Breakspear (Arty Froushan) en Sophie Longerbane (Caroline Ford). En Tourmaline (Karla Crome) erft bovennatuurlijke krachten die haar lot en de toekomst van The Row bedreigen. Nadat ze is ontsnapt aan The Burgue en haar wraakzuchtige broer Ezra (Andrew Gower), stuiten Imogen Spurnrose (Tamzin Merchant) en haar partner Agreus Astrayon (David Gyasi) op een radicale nieuwe samenleving die hun toekomstplannen volledig in de war schopt.
In een fantasiewereld waar mensen en wezens niet met elkaar overweg kunnen, zal elke held voor onmogelijke dilemma's komen te staan in de epische ontknoping van Carnival Row.
Bron en foto © Prime Video