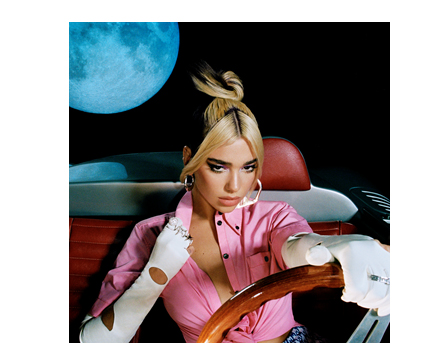 Eind januari kondigde Dua Lipa de release van Future Nostalgia aan. Het album zou op 3 april verschijnen, maar Dua liet afgelopen week in een live stream op Instagram weten dat dit wordt verplaatst naar morgen, vrijdag 27 maart. Eerder verscheen al de track 'Future Nostalgia' en de singles 'Don't Start Now' en 'Physical'. 

Dua over het moment waarop het idee voor het album ontstond: 
"I was doing a radio show in Las Vegas and I went for a walk, just to clear my mind. While I was walking, I was listening to OutKast and No Doubt and I was like, 'What is it about these records that I still love and relate to so much? Why do I feel like they haven't aged? And how could I incorporate that nostalgic feeling of all my favourite childhood memories and inspirations into something new and modern?"
TRACKLIST
1. Future Nostalgia 
2. Don't Start Now
3. Cool
4. Physical
5. Levitating
6. Pretty Please
7. Hallucinate 
8. Love Again
9. Break My Heart
10. Good In Bed
11. Boys Will Be Boys
TOUR
Naar aanleiding van de huidige situatie rondom het Corona-virus heeft Dua haar wereldtour moeten uitstellen. Ze zegt hierover: 

"Unfortunately given the current situation and with everyone's safety in mind we have had to postpone the UK and European dates of my "Future Nostalgia" Tour. All tickets will remain valid for the new shows and you will receive an email from the ticket agency confirming all details. I'll be announcing Tour Dates for the rest of the world very soon. I want to come to as many places as possible !"

Dit betekent dat haar show in de Ziggo Dome, die plaats zou vinden op 7 mei, wordt verplaatst naar woensdag 3 februari 2021.