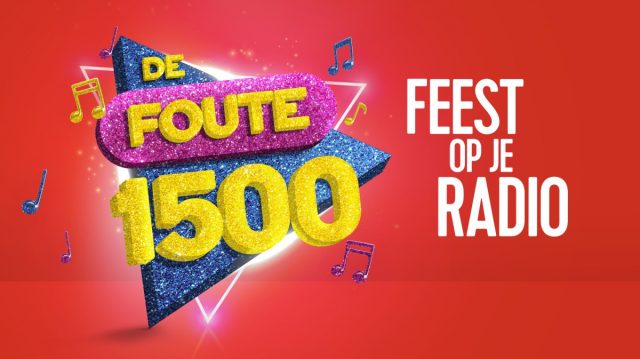 Na de 1500 beste hits uit het Foute Uur is er om 18.00 uur met de nummer één een einde gekomen aan een volle week Foute 1500. Snollebollekes grijpt opnieuw de nummer één-positie met het nummer 'Links, Rechts'. Voor de derde keer op rij weet hij DJ Paul Elstak af te troeven, die op nummer twee staat met Rainbow In The Sky.
De volledige Top 10 is geworden:
1. Snollebollekes – Links, rechts (1)
2. DJ Paul Elstak – Rainbow in the sky (2)
3. Helene Fischer – Atemlos durch die Nacht (3)
4. Captain Jack – Captain Jack (9)
5. Ali B & the Partysquad & Yes-R – Rampeneren (4)
6. ABBA – Dancing Queen (5)
7. Frans Duijts en Donnie – Frans Duits (-)
8. Backstreet Boys – I want it that way (13)
9. Ch!pz – 1001 Arabian Nights (12)
10. Snollebollekes – Vrouwkes (8)
(tussen haakjes staat de notering van vorig jaar)
Tot nu toe voerden de volgende nummers de foute hitlijst aan:
2005 & 2006 Frans Bauer – Heb je even voor mij
2007 Gerard Joling – Maak me gek
2008 Jan Smit – Als de morgen is gekomen
2009 Nick & Simon – Rosanne
2010 Sieneke – Ik ben verliefd
2011 New Kids & DJ Paul Elstak – Turbo
2012 t/m 2014 Captain Jack – Captain Jack
2015 t/m 2018 DJ Paul Elstak – Rainbow in the sky
2019 t/m 2021 Snollebollekes – Links, rechts
Een week lang hoorden Qmusic luisteraars de ene na de andere foute hit op de radio. De luisteraars hadden massaal gestemd op hun favorieten: in totaal zijn er maar liefst 340.000 stemmen uitgebracht. Hiermee is het record van vorig jaar verbroken, toen werd er een kwart miljoen keer gestemd.
Meeste noteringen
De koning van de foute hits is Marco Borsato, met maar liefst 20 noteringen. Borsato wordt op de hielen gezeten door ABBA met 19 nummers en André Hazes Senior met 18 noteringen.
Hoogste binnenkomers
De hoogste nieuwe binnenkomer is het nummer 'Frans Duits', van Donnie en Frans Duijts. Dit nummer wist vanuit niets de top 10 weten te bereiken. 'Hef Je Glas' van Marco Borsato en Rolf Sanchez is de tweede hoogste binnenkomer. Dit nummer werd begin deze maand uitgeroepen tot 'Foute Anthem' van Qmusic en is geëindigd op nummer 49.
Vanaf nu zijn de beste foute hits weer dagelijks te horen in het Foute Uur, op werkdagen van 10.00 tot 11.00 uur en vrijdag en zaterdag van 18.00 tot 19.00 uur.
Bron en foto © Qmusic