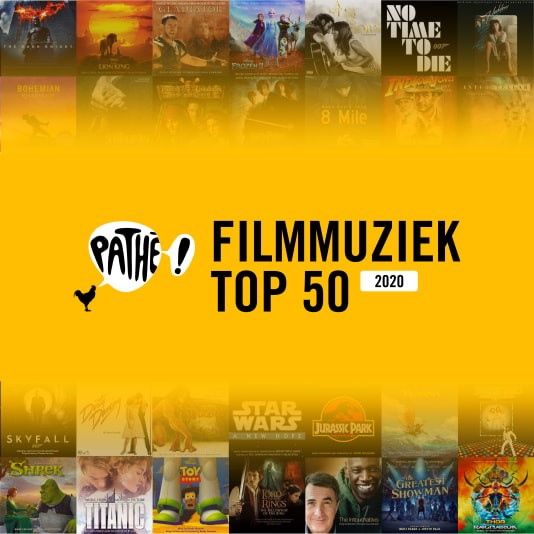 Wat is film zonder filmmuziek? He's a Pirate van Hans Zimmer uit de film Pirates of the Caribbean is dit jaar de nieuwe nummer één in de 'Pathé Filmmuziek Top 50'. Dit is het tweede jaar dat Pathé-fans een Top 50 Filmmuziek uitkozen. Met deze Top 50 kunnen filmliefhebbers alvast opwarmen voor volgende week 1 juni wanneer zij eindelijk weer naar de bioscoop kunnen.
Net als vorig jaar, zocht Pathé in mei naar de populairste muziek uit films. Bezoekers mochten vijf favorieten selecteren uit een lijst van 125 nummers. Die lijst was samengesteld op basis van suggesties van de volgers van Pathé op Instagram. Dit jaar stemden 6.500 Pathé-fans op de lijst, dat zijn er 2.000 meer dan vorig jaar.
Top 50 mix van bestaande nummers en voor film geschreven muziek
Pathé fans mochten stemmen op zowel speciaal voor films geschreven muziekstukken als op al bestaande nummers die gebruikt zijn voor een soundtrack. De 'Pathé Filmmuziek Top 50' bestaat daarom uit een bijzondere mix van liedjes en artiesten. Met film kun je jezelf onderdompelen in een scala van emoties, en goede filmmuziek geeft daar een extra dimensie aan.
De winnaar van vorig jaar, Bohemian Rhapsody, staat dit jaar niet bovenaan, maar eindigt nu op plek 2. He's A Pirate stond vorig jaar nog op 2, maar is dit jaar het populairst. De nieuwkomer in de top 10 is Imperial March van John Williams uit Star Wars. De hoogste stijgers in de top 10 zijn Shallow van Lady Gaga & Bradley Cooper uit de dramafilm A Star Is Born, Skyfall van Adele uit de gelijknamige James-Bond film en de Star Wars Theme van John Williams. De beroemde filmcomponisten John Williams en Hans Zimmer zijn goed vertegenwoordigd en komen met respectievelijk 7 en 5 keer het vaakst voor in de top 50.
De gehele top 50-lijst is vanaf nu via Spotify te beluisteren.
Opening bioscopen 1 juni
De 'Pathé Filmmuziek Top 50' is een opwarmertje voor volgende week 1 juni als de bioscopen weer geleidelijk open mogen. Dan kunnen filmliefhebbers eindelijk weer genieten van filmmuziek tijdens films op het grote doek. De Pathé en Euroscoop-bioscopen openen per 1 juni haar deuren volgens het nieuwe protocol, waarin duidelijke richtlijnen staan hoe bezoekers en medewerkers 1,5 meter afstand kunnen houden. Ook worden er diverse hygiënemaatregelen genomen. Van 1 juni tot 1 juli geldt er een maximum capaciteit van 30 bezoekers per zaal en kunnen zij alleen vooraf online tickets kopen. De eerste films die zullen worden vertoond zijn films die net voor de sluiting in release waren, en op veler verzoek is Interstellar o.a. in IMAX te zien en zijn Harry Potter and the Deathly Hallows Part I+II voor het eerst in 4DX te zien. Vanaf 8 juni zijn er exclusieve voorpremières van de nieuwe Nederlandse film Rundfunk: Jachterwachter bij Pathé. Tickets zijn te koop via www.pathe.nl.
De top tien van 2020:
1. Pirates of the Caribbean: He's A Pirate – Hans Zimmer
2. Bohemian Rhapsody: Bohemian Rhapsody – Queen
3. A Star Is Born: Shallow – Lady Gaga & Bradley Cooper
4. Star Wars: Star Wars Theme – John Williams
5. Harry Potter: Hedwigs Song – John Williams
6. Skyfall: Skyfall – Adele
7. Inception: Time – Hans Zimmer
8. Marvel Cinematic Universe: The Avengers – Alan Silvestri
9. The Lion King: Hakuna Matata – Donald Glover, Billy Eichner & JD McCrary
10. Star Wars: Imperial March – John Williams
De top tien van 2019:
1. Bohemian Rhapsody: Bohemian Rhapsody – Queen
2. Pirates of the Caribbean: He's A Pirate – Hans Zimmer
3. Marvel Cinematic Universe: The Avengers – Alan Silvestri
4. Harry Potter: Hedwigs Song – John Williams
5. A Star Is Born: Shallow – Lady Gaga & Bradley Cooper
6. Star Wars: Star Wars Theme – John Williams
7. Inception: Time – Hans Zimmer
8. Skyfall: Skyfall – Adele
9. Jurassic Park: Welcome to Jurassic Park – John Williams
10. The Lion King: Hakuna Matata
De gehele 'Pathé Top 50 Filmmuziek' van 2020:
1. Pirates of the Caribbean: He's A Pirate – Hans Zimmer
2. Bohemian Rhapsody: Bohemian Rhapsody – Queen
3. A Star Is Born: Shallow – Lady Gaga & Bradley Cooper
4. Star Wars: Star Wars Theme – John Williams
5. Harry Potter: Hedwigs Song – John Williams
6. Skyfall: Skyfall – Adele
7. Inception: Time – Hans Zimmer
8. Marvel Cinematic Universe: The Avengers – Alan Silvestri
9. The Lion King: Hakuna Matata – Donald Glover, Billy Eichner & JD McCrary
10. Star Wars: Imperial March – John Williams
11. Schindler's List: Theme from Schindler's List – John Williams
12. Dirty Dancing: Time of My life – Bill Medley & Jennifer Warnes
13. Titanic: My Heart Will Go On – Celine Dion
14. Fast & Furious 7: See You Again – Charlie Puth & Wiz Khalifa
15. 8 Mile: Lose Yourself – Eminem
16. The Lion King: Can You Feel The Love Tonight – Beyoncé & Donald Glover
17. Gladiator: Now We Are Free – Lisa Gerrard
18. Jurassic Park: Welcome to Jurassic Park – John Williams
19. Grease: You're The One That I Want – John Travolta & Olivia Newton-John
20. The Greatest Showman: This Is Me – Keala Settle
21. The Breakfast Club: Don't You Forget About Me – Simple Minds
22. The Greatest Showman: Rewrite the Stars – Zendaya & Zac Efron
23. Tarzan: You'll Be In My Heart – Phil Collins
24. Mamma Mia: Mamma Mia – Meryl Streep
25. Rocky: Eye of the Tiger – Survivor
26. A Star Is Born: Always Remember Us This Way – Lady Gaga
27. The Dark Knight: Main Theme – Hans Zimmer
28. Purple Rain: Purple Rain – Prince
29. Frozen: Let It Go – Idina Menzel
30. Interstellar: Mountains – Hans Zimmer
31. Pirates of the Caribbean At World's End: One Day – Hans Zimmer
32. The Bodyguard: I Will Always Love You – Whitney Houston
33. Lord of the Rings, The Fellowship of the Ring: One Ring to Rule Them All – Howard Shore
34. Guardians of the Galaxy: Mr. Blue Sky – Electric Light Orchestra
35. No Time To Die: No Time To Die – Billie Eilish
36. Intouchables: Fly – Ludovico Einaudi
37. A Star Is Born: I'll Never Love Again – Lady Gaga
38. Frozen 2: Into The Unknown – Idina Menzel
39. Toy Story: You've Got A Friend In Me – Randy Newman
40. Star Wars: Episode 1: The Phantom Menace: Duel of the Fates – John Williams
41. Thor Ragnarok: Immigrant Song – Led Zeppelin
42. The Hobbit: Misty Mountains – The Dwarf Cast
43. Lord of the Rings: May It Be – Enya
44. Indiana Jones: Raiders of the Lost Ark: The Raider's March – John Williams
45. Shrek: All Star – Smash Mouth
46. Moana: How Far I'll Go – Auli'i Cravalho
47. Frozen 2: Show Yourself – Idina Menzel
48. Spiderman: Into the Spider-verse: Sunflower – Post Malone
49. Guardians of the Galaxy: Hooked On A Feeling – Björn Skifs
50. The Greatest Showman: From Now On – Cast
Bron © Pathé