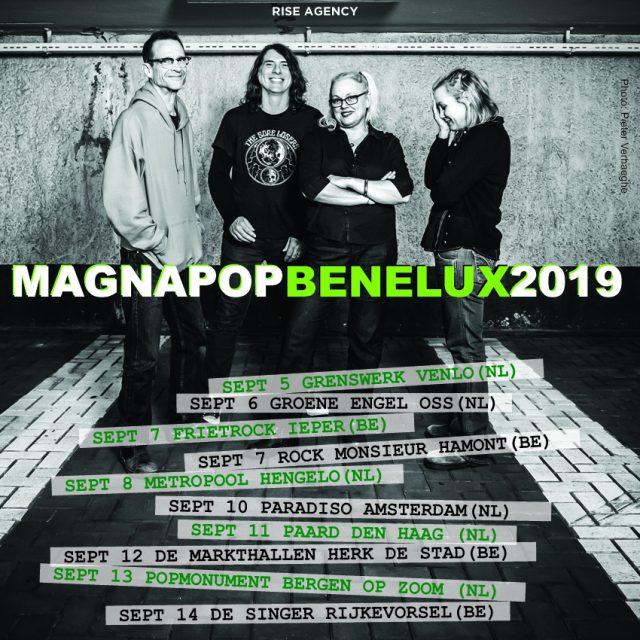 Magnapop komt in september voor club- en festivalshows naar Nederland en België. Tijdens deze tour zal de band, naast een dwarsdoorsnede uit haar repertoire, ook nieuw werk spelen waar momenteel in de studio aan wordt gewerkt.
05.09.2019 | Grenswerk, Venlo (NL)
06.09.2019 | De Groene Engel, Oss (NL)
07.09.2019 | Frietrock, Ieper (BE) – middag
07.09.2019 | Rock Monsieur, Hamont (BE) – avond
08.09.2019 | Metropool, Hengelo (NL)
10.09.2019 | Paradiso, Amsterdam (NL)
11.09.2019 | Paard, Den Haag (NL)
12.09.2019 | De Markthallen, Herk-de-Stad (BE)
13.09.2019 | Popmonument, Bergen op Zoom (NL)
14.09.2019 | De Singer, Rijkevorsel (BE)
Magnapop bevindt zich in het rijtje The Breeders, The Pixies, The Posies, en Nada Surf. Het kwartet uit Atlanta, Georgia brak menig potje in de indierockscene in de jaren 90 en heeft nog steeds een hondstrouwe aanhang. Hun platen werden geproduceerd door onder meer Bob Mould en Michael Stipe en verschillende nummers zijn gecoverd door gevestigde namen als EELS en R.E.M.

Sinds het bezoek van Magnapop aan de Benelux in 2017, is de aanstaande tour hun derde in originele bezetting: Linda Hopper (zang, gitaar), Ruthie Morris (gitaar), Shannon Mulvaney (bas) en David McNair (drums). Hits als Slowly, Slowly en Open The Door staan nog immer op de setlist, die verder een reis is langs de vijf albums die de band in haar historie opnam.

Magnapop is momenteel bezig met het schrijven van nieuwe muziek, waarvan we de resultaten te horen krijgen tijdens hun aanstaande shows.
De Engelse band Harker verzorgt bij het merendeel van de shows het voorprogramma. De voorverkoop is inmiddels begonnen.