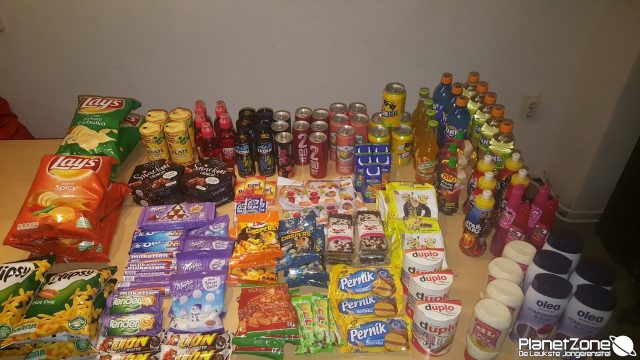 Wil je ook een lekker, speciaal en uniek kerstpakket die niemand anders heeft?
Dan ben je bij planetzone aan het juiste adres!
Wij verzorgen namelijk een kerstpakket die niet alleen uniek is, maar waar je ook je vingers bij af gaat likken.
Ons kerstpakket bestaat namelijk uit allerlei lekkere producten voor thuis achter de buis. Van heerlijke chocolade snowballen uit Kroatië tot Fanta vlierbessem uit Polen en van lekkere tzaziki borrelnootjes uit Slovenie tot heerlijke bosuien chips uit Tsjechië!
Wij reizen namelijk heel Europa door om de meest bijzondere producten te verzamelen en jou de kans te geven je vrienden, familie of medewerkers hiermee een reis door Europa te laten beleven zonder dat ze van de bank af hoeven te komen!
Kerstpakket
Wil jij als jongere een vriend/in familielid of bedrijf een uniek Europees kerstpakket geven? Dan is dit je kans! Het kerstpakket kost € 24,99 euro exclusief btw en verzendkosten en we zijn er zeker van overtuigd dat dit het lekkerste kerstpakket is die je ooit heb gekregen! Je kan makkelijk via Ideal betalen. Dit kan tot een max van 10 stuks. Wil je als bedrijf meer dan 10 pakketen bestellen? Dat kan door een mail te sturen naar:kerstpakket@planetzone.nl
Let op! Fotos is ter illustratie. Dit wil zeggen dat het pakket kan wijzigen in de producten die afgebeeld zijn mede doordat producten jaarlijks worden gewijzigd of nieuwe producten op de markt komen die onlangs verschenen zijn.
[paytium name="Planetzone" description="Kerstpakketten incl btw en verzenden"]
[paytium_field type="dropdown" label="Aantal pakketten" options="31,52 (1 stuk)/63,05 (2 stuks)/94,57 (3 stuks)/126,08 (4 stuks)/157,62 (5 stuks)/189,15 (6 stuks)/220,67 (7 stuks)/252,20 (8 stuks)/283,72 (9 stuks)/315,24 (10 stuks)" options_are_amounts="true" tax="6″ first_option="amount" /]
[paytium_field type="Bedrijfsnaam" label="Bedrijf" required="false" /]
[paytium_field type="Voornaam" label="Voornaam" required="true" /]
[paytium_field type="Achternaam" label="Achternaam" required="true" /]
[paytium_field type="Adres + nummer" label="Adres" required="true" /]
[paytium_field type="Postcode" label="Postcode" required="true" /]
[paytium_field type="Plaats" label="Plaats" required="true" /]
[paytium_field type="email" label="Email" required="true" /]
[paytium_field type="textarea" label="Jouw bericht" required="false" default="Extra informatie" /]
[paytium_total /]
[paytium_button label="Betalen" /]
[/paytium]