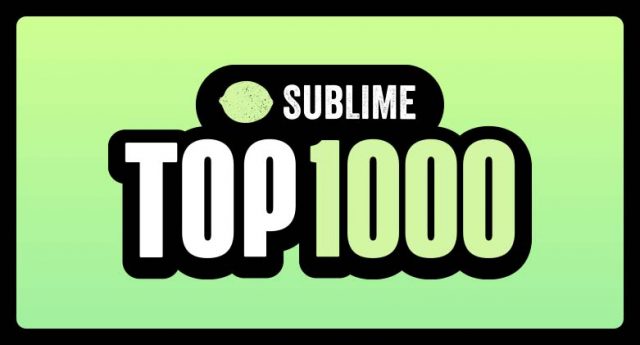 De stembussen zijn gesloten en de Sublime Top 1000, de enige hitlijst met de 1000 allerbeste funk, soul & Jazz-platen ooit gemaakt, is samengesteld. Otis Redding met (Sittin' on) The Dock Of The Bay bezet de nummer 1-positie. Otis Redding stoot Marvin Gaye, die de afgelopen twee jaar op nummer 1 stond, van de troon. Amy Winehouse is met Back to Black als runner up gekozen. Marvin Gaye met What's Going On is terug te vinden op nummer 3. De gehele lijst wordt vanaf woensdag 3 november tot en met vrijdag 12 november uitgezonden door Sublime.
De opening van de Sublime Top 1000 is woensdagochtend voorbehouden aan ochtend-dj Jaap Brienen. Hij start zijn uitzending om 09.00 uur met nummer 1000: King Curtis met Memphis Soul Stew. Vervolgens wordt tot en met 11 november toegewerkt naar de top 100 van de lijst, die vanwege de vijfde editie in omvang is verdubbeld. Op de finaledag, vrijdag 12 november, is Jaap Brienen te horen en te zien via Ziggo TV kanaal 13, tussen 07.00 en 10.00 uur. Tussen 10.00 en 14.00 uur is Jan-Paul Grootentraast de dj van dienst, terwijl Angelique Houtveen de laatste drie uur voor haar rekening neemt. Zij ontvangt daarbij speciale gasten Candy Dulfer, Edsilia Rombley en Pete Philly.
Afterparty Francis Broekhuijsen verzorgt de inmiddels traditionele afterparty na het draaien van de nummer 1. Luisteraars van Sublime (FM, DAB+, online, sublime app) en kijkers van Ziggo TV kanaal 13 kunnen gedurende twee uur nummers, die niet in de Sublime Top 1000 terecht zijn gekomen, aanvragen.
Bron en foto © Sublime