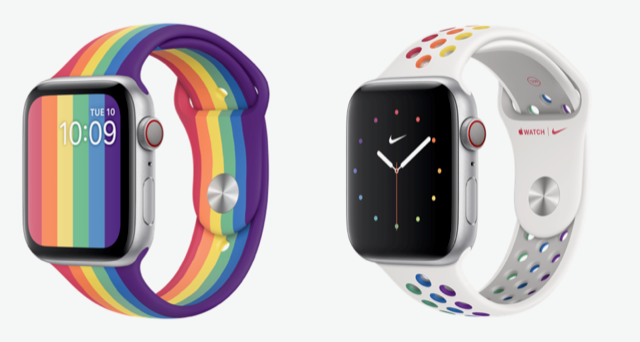 Nu Pride overal ter wereld digitaal gaat, zijn we er trots op dat we het ongelooflijke werk van LGBTQ-belangenorganisaties, waaronder GLSEN, kunnen delen en ondersteunen, die de wereldwijde beweging inspireert en helpt om discriminatie, pesterijen en pesten op scholen te beëindigen door voorstanders van studenten te ondersteunen en middelen te verstrekken . Deze Apple Newsroom-post belicht Elle Smith, GLSEN's Student Advocate of the Year.
Appple lanceert vandaag twee nieuwe Apple Watch Pride Edition-bands en een verzameling nieuwe Pride-wijzerplaten voor Apple Watch. Apple en Nike zijn trots om LGBTQ-organisaties te ondersteunen die wereldwijd vitale organisatie, belangenbehartiging en gemeenschapsopbouw doen: GLSEN, PFLAG, The Trevor Project, Gender Spectrum, The National Center for Transgender Equality en ILGA World.
De Pride Edition Sport Band van dit jaar, met een kunstzinnig uniek verticaal gestreept regenboogontwerp, wordt voor het eerst vergezeld door een nieuwe Apple Watch Nike Pride Edition Sport Band.
Later op de dag, als onderdeel van watchOS 6.2.5, hebben Apple Watch-dragers ook toegang tot een nieuwe collectie regenboogkleurige Pride-wijzerplaten om te combineren met de bands.
— Apple Watch Pride Edition Sport Band, €49
                — Apple Watch Nike Pride Edition Sport Band, €49
https://www.apple.com/newsroom/2020/05/as-pride-goes-virtual-apple-watch-pride-edition-helps-community-and-advocacy-continue-worldwide/