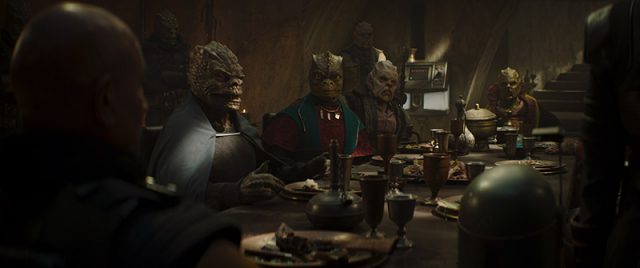 Vandaag debuteerde Disney+ met een spannende, exclusieve promoclip om de terugkeer aan te kondigen van Boba Fett, het mysterieuze titulaire personage van hun nieuwe originele serie van Lucasfilm, "The Book of Boba Fett". Bekijk "Return of a" Legend " waarin filmmakers Dave Filoni, Jon Favreau en Robert Rodriguez, en sterren Temuera Morrison en Ming-Na Wen, een overzicht van de show geven en de komst van Boba Fett aanstaande woensdag 29 december vieren, exclusief op Disney+.
In "The Book of Boba Fett", een spannend Star Wars-avontuur, geplaagd in een verrassende eindcreditsequentie na de seizoensfinale van "The Mandalorian", vinden legendarische premiejager Boba Fett en huurling Fennec Shand hun weg door de onderwereld van de melkweg wanneer ze terugkeren naar het zand van Tatooine om hun claim te vestigen op het gebied dat ooit werd geregeerd door Jabba the Hutt en zijn misdaadsyndicaat.
In The Book of Boba Fett spelen Temuera Morrison en Ming-Na Wen de hoofdrol. Jon Favreau, Dave Filoni, Robert Rodriguez, Kathleen Kennedy en Colin Wilson zijn de uitvoerende producenten. Karen Gilchrist en Carrie Beck fungeren als co-executive producers, met John Bartnicki als producer en John Hampian als co-producer.
Bron en foto © The Walt Disney Company / © 2021 Lucasfilm Ltd. & ™. All Rights Reserved.