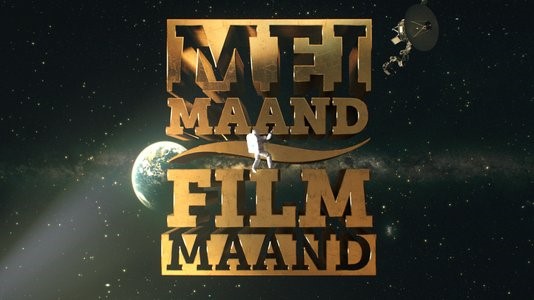 Ook in 2018 is het in mei weer Meimaand Filmmaand bij Veronica; hét filmevent van het jaar met de grootste sterren, de beste film-franchises en de vetste premières. Voor het eerst sinds jaren staat de Meimaand Filmmaand weer in het teken van een filmthema. Een thema dat al jaren de box office domineert. Een thema dat maar liefst acht keer voorkomt in de top 10 van best bezochte films allertijden. Een thema dat garant staat voor succes: science fiction! De Meimaand Filmmaand wordt dit jaar afgesloten met de exclusieve première van Jurassic World: Fallen Kingdom, speciaal voor de fans van Veronica.
Maandag            
Op maandag in de Meimaand Filmmaand staat het futuristische superhelden epos X-Men centraal. Naast de zeer succesvolle blockbusters X-Men Days of Future Past en de première van X-Men Apocalypse is ook de meest succesvolle 16+ film uit de filmgeschiedenis te zien: Deadpool.
Dinsdag
Op dinsdag brengt Veronica de allergrootste sci-fi premières: Interstellar (met Matthew McConaughey), Mad Max: Fury Road (Tom Hardy), Edge of Tomorrow (Tom Cruise), Independence Day (Liam Hemsworth). Deze topfilms brachten wereldwijd bij elkaar meer dan 1,6 miljard dollar op.
Woensdag
De grootste sci-fi blockbusters van de afgelopen jaren staan op de woensdag geprogrammeerd: Inception (Leonardo DiCaprio), Gravity (Sandra Bullock en George Clooney), The Martian (Matt Damon) en Oblivion (Tom Cruise).
Zaterdag
Op zaterdag zie je de grootste sci-fi filmklassiekers ooit gemaakt. Tijdloze blockbusters die lang niet op televisie zijn geweest en een inspiratie zijn voor de films die tegenwoordig gemaakt worden zoals Robocop, de originele Blade Runner en Mad Max-films.
Jurassic World: Fallen Kingdom
De Meimaand Filmmaand wordt afgesloten met een exclusieve première van de Hollywood-film Jurassic World: Fallen Kingdom, speciaal voor de fans van Veronica. Een unieke samenwerking tussen Veronica en distributeur UPI waar binnenkort meer over bekend wordt gemaakt.