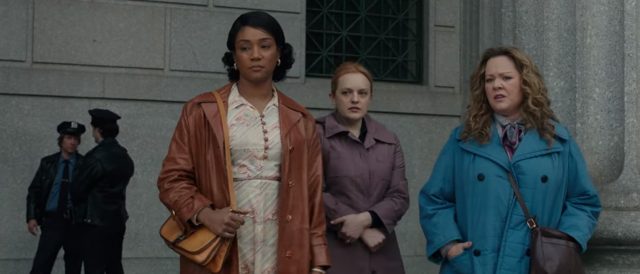 THE KITCHEN, van New Line Cinema en BRON Creative, is een rauwe film over vrouwen in de wereld van de georganiseerde misdaad, geschreven en geregisseerd door Andrea Berloff, de voor een Oscar®- genomineerde scenariste van 'Straight Outta Compton'.

De hoofdrollen in THE KITCHEN worden vertolkt door de voor een Oscar®- genomineerde Melissa McCarthy ('Can You Ever Forgive Me?', 'Bridesmaids'), Tiffany Haddish ('Girls Trip'), en Elisabeth Moss ('The Handmaid's Tale') als de echtgenotes van leden van de Ierse maffia uit Hell's Kitchen die in 1978 door toedoen van de FBI in de gevangenis belanden. De dames besluiten daarop het heft maar in eigen hand te nemen en blijken onverwachts heel bedreven te zijn in het runnen van de criminele organisatie en het uit de weg ruimen van de concurrentie…letterlijk.

Daarnaast zijn er bijrollen voor Domhnall Gleeson ('Star Wars: The Last Jedi'), James Badge Dale ('Only the Brave'), Brian d'Arcy James ('Spotlight'), Margo Martindale (de tv-serie 'The Americans'), Oscar®-winnaar Common ('Selma,' 'Marshall'), en Bill Camp ('Vice'); en voor Jeremy Bobb ('Marshall'), E.J. Bonilla (tv-serie 'The Long Road Home'), Wayne Duvall ('Prisoners'), Annabella Sciorra (tv-serie 'Daredevil') en Myk Watford (HBO-serie 'True Detective').

Berloffs scenario is gebaseerd op de door Ollie Masters en Ming Doyle gemaakte comics voor DC Vertigo. De film werd geproduceerd door meervoudig Oscarwinnaar Michael de Luca, ('Captain Phillips,' 'Moneyball,' 'The Social Network') en Marcus Viscidi ('Rampage'). Uitvoerend producenten waren Richard Brener, Michael Disco, Dave Neustadter, Aaron L. Gilbert, Jason Cloth, Elishia Holmes, en Adam Schlagman.

Berloffs creative team bestond onder meer uit director of photography Maryse Alberti ('Creed'), production designer Shane Valentino ('Straight Outta Compton'), de voor een Oscar®- genomineerde editor Christopher Tellefsen ('Moneyball,' 'A Quiet Place') en costume designer Sarah Edwards ('Ocean's 8,' Showtime's 'Billions'). De muziek werd gecomponeerd door Bryce Dessner.

De film werd grotendeels gedraaid op locatie: de beroemde wijk Hell's Kitchen in New York. New Line Cinema presenteert, in samenwerking met BRON Creative, 'The Kitchen', een film van producent Michael De Luca
THE KITCHEN is vanaf 19 september 2019 te zien in de Nederlandse bioscoop.