Deze week onder meer aandacht voor Shazam!, Pet Sematary en Fighting with my Family en draaien vanaf nu in de Nederlandse bioscopen!
Shazam!

We hebben allemaal een superheld in ons. Het vereist alleen wat magie om het eruit te halen. In het geval van Billy Batson (Angel), kan dat door één woord te roepen: Shazam! Het 14 jarige pleegkind kan daardoor met behulp van een oude tovenaar in de volwassen Superheld Shazam (Levi) veranderen. Van binnen is hij nog een kind, maar van buiten heeft Shazam een gespierd, goddelijk lichaam. Shazam komt tot leven in deze volwassen versie van zichzelf door te doen wat elke tiener zou doen met superkrachten: er veel plezier mee maken! Kan hij vliegen? Heeft hij röntgenogen? Kan hij bliksem uit zijn handen laten schieten? Kan hij zijn proefwerken op school overslaan? Shazam gaat op zoek naar de grenzen van zijn krachten met de roekeloosheid van een kind. Maar hij zal deze krachten snel moeten beheersen om de dodelijke krachten van het kwaad te bestrijden die worden beheerst door Dr. Thaddeus Sivana (Strong). David F. Sandberg (Annabelle: Creation) regisseert New Line Cinema's Shazam! het oorsprongsverhaal waarin Zachary Levi (tv-serie Chuck) de DC Superheld speelt, Mark Strong (Kingsman) als superschurk Dr. Thaddeus Sivana en Asher Angel (tv-serie Andi Mack) als Billy Batson. Peter Safran (Aquaman, The Conjuring, Annabelle) is de producent van de film. In Shazam! speelt ook Jack Dylan Grazer (IT) als Billy's beste vriend en ultieme superhelden-fan, Freddy en Oscar®-genomineerde Djimon Hounsou (Blood Diamond) als de tovenaar. Verder ook Faithe Herman (tv-serie This is Us), Grace Fulton (Annabelle: Creation), Ian Chen (tv-serie Fresh Off the Boat), Jovan Armand (TV's Hawaii Five-0), Marta Milans (tv-serie Killer Women) en Cooper Andrews (tv-serie The Walking Dead).De film is gebaseerd op karakters uit de DC Universe. Screenplay is geschreven door Henry Gayden naar het verhaal van Gayden en Darren Lemke. Shazam is gecreëerd door Bill Parker en C.C. Beck. Jeffrey Chernov, Christopher Godsick, Walter Hamada, Geoff Johns, Adam Schlagman, Richard Brener, Dave Neustadter, Dany Garcia, Hiram Garcia en Dwayne Johnson zijn uitvoerend producent.
Pet Sematary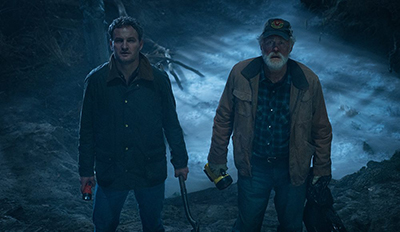 Dokter Louis Creed (Jason Clarke) is net samen met zijn vrouw Rachel (Amy Seimetz) en hun twee jonge kinderen van Boston naar het platteland van Maine verhuisd. Dan ontdekt hij een mysterieuze begraafplaats in het bos vlakbij hun nieuwe huis. Dan slaat het noodlot toe en volgt er een reeks angstaanjagende en afgrijselijke gebeurtenissen. Pet Sematary is gebaseerd op de gelijknamige baanbrekende horror-roman van Stephen King (It, The Shining, The Green Mile).
Fighting with My Family

Fighting with My Family geproduceerd door o.a. Dwayne Johnson, is gebaseerd op het waargebeurde verhaal van de succesvolle vrouwelijke WWE-worstelaar Paige. Paige (Florence Pugh, Malevolent) komt uit een hecht Brits gezin dat helemaal gek is op worstelen. Wanneer zij en haar broer Zak (Jack Lowden, Mary Queen of Scots) de kans krijgen om auditie te doen voor WWE (World Wrestling Entertainment), grijpen ze deze unieke kans om hun stoutste dromen werkelijkheid te laten worden. Maar alleen Paige en niet haar broer wordt uitgekozen om verder te gaan met het zware trainingsprogramma. Ze moet deze harde wereld in haar eentje trotseren en zelf ontdekken wat haar bijzonder maakt en haar een ster kan maken. Met Dwayne Johnson als zichzelf, geregisseerd door Stephen Merchant (The Office, Cemetery Junction). Verder met o.a. Florence Pugh (Malevolent), Lena Heady (Game of Thrones), Nick Frost (Shaun of the Dead), Jack Lowden (Mary Queen of Scots) en Vince Vaughn (The Internship).