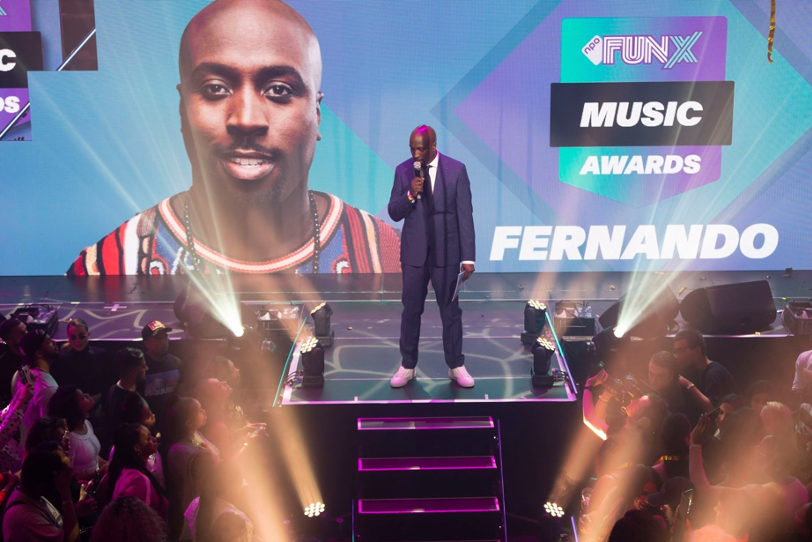 Zojuist heeft Fernando Halman op NPO FunX bekend gemaakt dat de uitreiking van de FunX Music Awards dit jaar plaatsvindt op woensdag 16 september. De belangrijkste urban muziekprijzen van Nederland worden vanwege coronamaatregelen uitgereikt zonder publiek.

De zevende editie van de FunX Music Awards zou oorspronkelijk vandaag, op donderdag 11 juni 2020, plaatsvinden in AFAS Live. De show is verplaatst naar september en wordt live vanuit een studio uitgezonden op NPO 3. Daar zijn de grootste urban artiesten aanwezig en zijn er optredens van onder anderen Frenna en Josylvio. De presentatie van de awardshow is, net als vorig jaar, in handen van FunX-dj Fernando Halman.
De live-uitzending van de FunX Music Awards is te volgen op NPO 3 en online via FunX.nl. De tv-uitzending is in samenwerking met de NTR. Ook op radio en social media doet FunX verslag van de uitreikingen en optredens.

Als de richtlijnen van de overheid het toelaten wil FunX volgend voorjaar de awardshow met publiek in AFAS Live organiseren. Gekochte en gewonnen kaarten voor de FunX Music Awards van dit jaar blijven daarom geldig voor deze nieuwe datum in 2021.

De FunX Music Awards zijn de belangrijkste Nederlandse urban muziekprijzen voor de beste MC's, zangers, dj's en groepen van eigen bodem. De winnaars worden bepaald door het publiek van NPO FunX. Drie weken lang stemmen zij op hun favoriete artiesten op FunX.nl. Tijdens de awardshow worden prijzen uitgereikt in verschillende categorieën waaronder: Artist Of The Year, Best Song en Next Best. Voor meer informatie: funx.nl/awards.
Bron © FunX