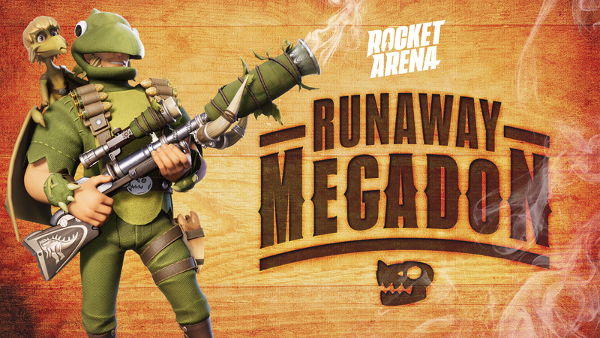 EA en Final Strike Games hebben de start van het Runaway Megadon Event aangekondigd, een gloednieuw en speciaal tijdelijk evenement in Rocket Arena dat spelers de kans geeft om zich op nieuwe maps, modes, playlists en nog veel meer te storten. Vanaf vandaag tot en met 22 september kunnen alle spelers zich naar Boone's thuisregio The Wilds knallen om vervolgens op zoek te gaan naar een vermiste Megadon.
 Spelers kunnen de nieuwe map Kayo Kanyon verkennen: een klein plaatsje in The Wilds met een van de gammelste spoorwegen in Crater, waar ze stuiten op een raketvormige watertoren, een teerput boordevol Megadon-beenderen, mijngangen en nog veel meer. Dit alles terwijl ze op jacht gaan naar Boomer de Megadon.
Daarnaast kunnen spelers van nieuwe event playlists genieten, nieuwe game modes (Megamuzzle en Splat) spelen of hun solovaardigheden testen in Duel. Mensen die zich op opeenvolgende dagen aan het evenement deelnemen, worden tevens getrakteerd op een aantal gratis, exclusieve beloningen van de Rocket Rail Line, waaronder het Megadon Adventure, Boone, het Rugged Rocks Totem Pattern, het Rocket Rail Caboose Totem Symbol en de Fossilized Megablast VFX Trail.
Om het in-game evenement te vieren, kunnen spelers speciale Twitch Drops verdienen door Rocket Arena op Twitch te bekijken. Hierbij moet je denken aan Runway Megadon Epic en Legendary outfits! Er komen nog meer nieuwe dingen aan tijdens Rocket Arena Season 1, dus houd je raketten paraat voor de lancering.
Bron © Electronic Arts