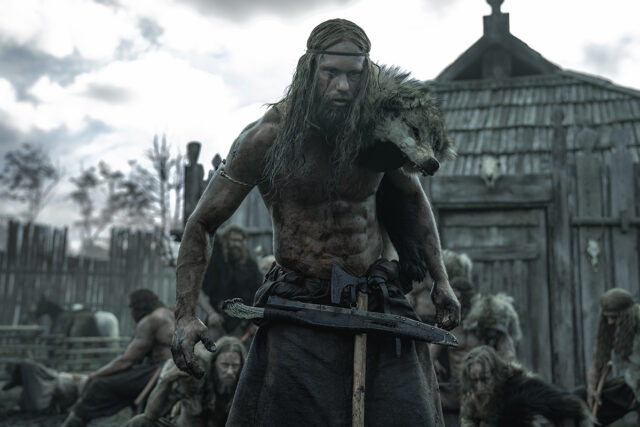 Op donderdag 14 april is de film "The Northman" in de bioscopen uitgekomen. Dit is een avonturen / dramafilm met een aantal brute actiescènes, wat zich afspeelt in de wereld van de Vikingen. De film is geregisseerd door Robert Eggers, die eerder "The Lighthouse" en "The Witch" regisseerde. De hoofdrollen worden vertolkt door Alexander Skarsgård (o.a. Godzilla Vs Kong, The Legend of Tarzan), Nicole Kidman (o.a. "The Killing of a Sacred Deer", "Eyes Wide Shut, Claes Bang (o.a. "The Last Vermeer", "The Girl in the Spider's Web") en Anna Taylor-Joy (o.a. "Last Night in Soho", "Glass"). Verder spelen ook acteurs zoals Ethan Hawke en Willem Dafoe mee.

Wie Assassin's Creed Valhalla gespeeld heeft of laatst een vikingen-serie gekeken heeft, zal veel kunnen herkennen in deze legendarische vikingenfilm, dat zich richt op wraak. De vader van de jonge Amleth wordt namelijk vermoord, en Amleth zal zich jarenlang richten op een drietal doelen: het wreken van zijn vader, het redden van zijn moeder, en het vermoorden van degene die zijn vader gedood heeft, Fjölnir. Hiervoor worden we meegenomen naar 895 na Christus.
Als je alleen voor het verhaal gaat, zal je deze ruim twee uur durende film soms wat saai vinden. De focus ligt hier namelijk meer op de dialogen, de mythische/spirituele reis van Amleth, en de wereld zelf. Er wordt namelijk genoeg tijd besteed aan het tonen van het prachtige IJslandse landschap, waar de film geschoten is. De dialogen worden gesproken door een groep topacteurs, waardoor het altijd boeiend blijft.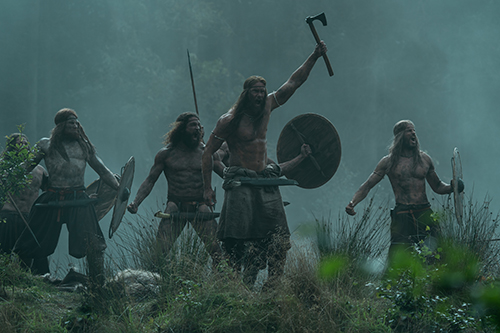 Ik noemde al het prachtige IJslandse landschap, maar dit is niet het enige wat bijdraagt aan een geweldige cinematografie. Ook de shots van de poort naar Valhalla zien er beeldschoon uit, of wat dacht je van de achtergrond bij het allerlaatste gevecht. Het camerawerk draagt hier erg goed aan bij. Ik ben blij dat er genoeg ruimte was om aandacht te besteden aan de Vikingcultuur. Vooral door het spelen van Assassin's Creed Valhalla wist ik wat er bedoeld werd met een aantal termen en gebruiken, wat de beleving nog beter maakte. Vooral de toepasselijke en mooie muziek deed me denken aan het spel.

Wie nu denkt: "zit er dan nauwelijks een verhaal in, is de film dan wel te volgen?", hoeft zich geen zorgen te maken. Ondanks dat het verhaal niet het belangrijkst is, wordt er wel goed mee gewerkt. Er vindt genoeg ontwikkeling plaats, vooral via de goede twist. Verder zijn de brute en bloederige actiescènes absoluut een hoogtepunt van de film, vooral ook door de manier waarop ze gefilmd zijn: allemaal op een andere manier. Interessant is tot slot Amleth's proces om stap voor stap dichter bij zijn wraak te komen, wat resulteert in een sterke slotact.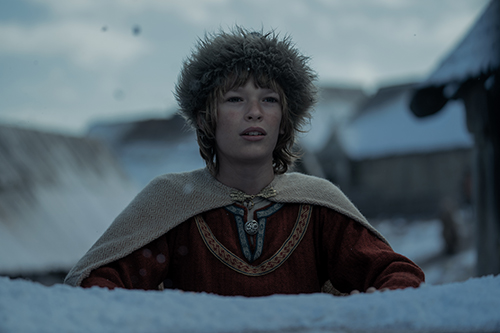 Al met al hebben zien we hier een simpel verhaal met sterke actiescènes, dat dieper uitgewerkt wordt via dialoog, mystiek en achterliggende betekenissen en symboliek. De technische kant van de film stelt ook niet teleur: de cinematografie, het camerawerk en de muziek dragen allemaal bij aan de beleving. Deze film krijgt een dikke 8.5.
Credit: Aidan Monaghan / © 2022 Focus Features, LLC