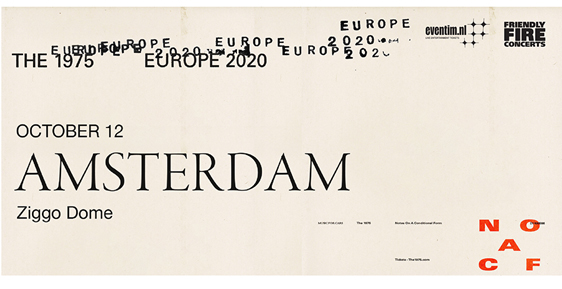 The 1975 verplaatst de reeds bevestigde Ziggo Dome show van dinsdag 17 maart 2020 naar maandag 12 oktober 2020. De show wordt verplaatst omdat het nieuwe album Notes On A Conditional Form nog niet af is. De release van het album stond gepland op 21 februari 2020, maar deze zal dus uitgesteld worden. Kaarten voor de nieuwe datum zijn nog steeds verkrijgbaar via www.the1975.nl.

Statement van The 1975
'Due to the time needed to complete the recording of the upcoming album "Notes On A Conditional Form" we have made the decision to move The 1975's EU tour from February & March 2020 to October 2020. We are very sorry for any inconvenience this may cause and hope that everyone can make the new shows. We understand that this will be a cause of upset but rest assured the delay will make for the best shows possible. Thanks in advance for your understanding and we look forward to seeing you in October. All original tickets remain valid. For all those who cannot make the new dates you will be able to get refunds at your original point of purchase.', aldus The 1975. 

Nieuw album
Inmiddels zijn de eerste singles van het vierde studioalbum Notes on a Conditional Form uit: 'The 1975', 'People' en 'Frail State Of Mind'. De eerstgenoemde is een samenwerking met activiste Greta Thunberg waarin de klimaatcrisis aan het licht wordt gebracht. In een interview met Dazed vertelt frontman Matty Healy dat het nieuwe album elementen van UK garage, hiphop, R&B en elektronische muziek bevat. Hij vergelijkt het met de eerste EP's die de band uitbracht. Toch zal het nog even duren voordat er genoten kan worden van dit 22-nummers lange album.
The 1975
Maandag 12 oktober 2020
Ziggo Dome, Amsterdam
Tickets zijn verkrijgbaar v.a. €40 excl. 10% servicekosten en transactie- en/of verzendkosten.
De verkoop is reeds van start via www.the1975.nl