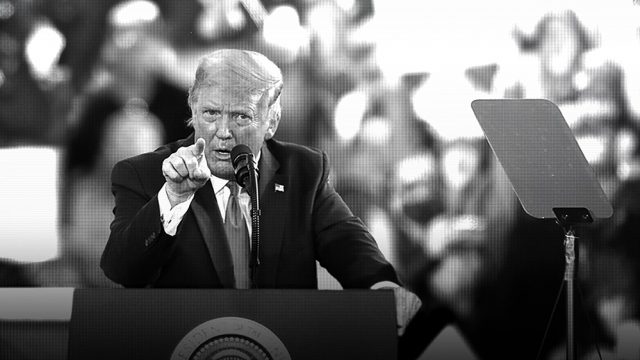 Donald Trump en de waarheid hebben op zijn zachts gezegd nogal een moeizame relatie. Terwijl hij de term 'fake news' regelmatig plakt op berichtgeving die hem niet zint, wordt aangenomen dat hij zelf meer dan 22.000 onware of misleidende uitspraken heeft gedaan in de vier jaar van zijn presidentschap. Met als ultieme claim dat de recente verkiezingen in zijn nadeel zijn gemanipuleerd. Zelfs nu zijn nederlaag officieel is vastgesteld en Joe Biden op 20 januari wordt geïnstalleerd als zijn opvolger, blijft Trump volhouden dat hij is bestolen. Maar ook andere uitspraken van hem worden sterk in twijfel getrokken: dat zijn vader uit Duitsland komt, dat het echt niet regende tijdens zijn inauguratie en dat hij tijdens 9/11 bij de hulpverleners was.

Hoe weten we nu of Trump de waarheid spreekt of doet alsof? In deze documentaire leggen drie experts in lichaamstaal, linguïstiek en forensische psychologie Trumps woorden, handelingen en gedrag onder een vergrootglas. Lichaamstaalexpert Dr. Cliff Lansley wijst onder meer op de 'Trump Squirm': de kronkelingen in zijn schouders en armen die zijn woorden proberen tegen te spreken, terwijl Trump dat onderdrukt door zijn lessenaar vast te houden. Professor in de linguïstiek Dawn Archer analyseert het opvallende moment dat Trump verstrikt raakt in zijn claim over het desinfecteren van corona. Forensisch psycholoog Kerry Daynes vermoedt dat Trumps weigering om een nederlaag toe te geven weleens te maken kan hebben met het niet willen teleurstellen van zijn eigen vader. Krijgen we eindelijk de waarheid te horen over Trumps vermeende onwaarheden?
De documentaire Donald Trump: A Faking It Special zal op woensdag 20 januari, de inauguratiedag van Joe Biden, te zien zijn op discovery+.
Bron © Discovery