Wilt u uw televisie niet aan de muur hangen of heeft u geen ruimte voor een groot meubel? Dan is de nieuwe Hama tv-stand de juiste oplossing. Deze tv-stand, met het design van een schildersezel, integreert uw televisie onopvallend in de woonkamer.
118099 – Hama tv-stand met schildersezel-design
Aangeraden verkoopprijs: € 149,00 De nieuwe, vrijstaande tv-stand van Hama is discreet, minimalistisch en modern. Hij kan in elke woonomgeving geïntegreerd worden, of de televisie nu onopvallend op de achtergrond blijft of een centraal punt is in de woning. Het stabiele driepootsframe van zwart gepoedercoat staal is geschikt voor flatscreens met een beeldschermgrootte van 94 tot 191 centimeter (37″ – 75″) en kan tot 40 kilogram dragen. Antislip rubberen voetjes zorgen voor een stabiele grip en de geïntegreerde kabelclips zorgen ervoor dat alle kabels steeds mooi weggewerkt zitten. Dankzij de in hoogte verstelbare armen kan de televisie makkelijk op gepaste hoogte gezet worden.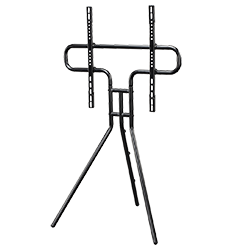 Technische gegevens
Afmetingen: 75 x 54 x 134 cm
Maximale belasting: 40 kg
VESA standaard:

300 x 200 mm
300 x 300 mm
400 x 200 mm
400 x 300 mm
400 x 400 mm
600 x 400 mm