gg
[romantiek, komedie] TICKET TO PARADISE draait sinds 28 september jl. in de bioscoop in Nederland en heeft sinds afgelopen weekend meer dan 500.000 bezoekers getrokken. Hiermee heeft de film ruim € 5.145.000 opgebracht. TICKET TO PARADISE heeft drie weken lang op nummer één gestaan en daarna nog vier weken op nummer twee.
De film draait momenteel in 133 bioscopen.
 
Oscar®-winnaars George Clooney en Julia Roberts zijn weer samen te zien op het witte doek als exen die een gezamenlijke missie hebben: hun smoorverliefde dochter ervan weerhouden dezelfde fout te maken als zij ooit maakten. TICKET TO PARADISE van Working Title, Smokehouse Pictures en Red Om Films is een romantische komedie over tweede kansen die verrassend kunnen uitpakken.
Ol Parker (Mamma Mia! Here We Go Again, schrijver van de Best Exotic Marigold Hotel-films) heeft de film geregisseerd naar het script dat hij samen met Daniel Pipski schreef.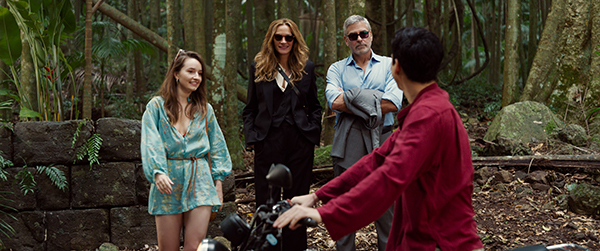 TICKET TO PARADISE is geproduceerd door Tim Bevan (Darkest Hour, The Danish Girl) en Eric Fellner (The Theory of Everything, Les Misérables) voor Working Title, door Sarah Harvey (The Best Exotic Marigold Hotel, co-producent In Bruges), Deborah Balderstone (Palm Beach, Gone), George Clooney en Oscar®-winnaar Grant Heslov (Argo, The Midnight Sky) voor Smokehouse Pictures en door Julia Roberts, Lisa Roberts Gillan en Marisa Yeres Gill (beiden co-uitvoerend producent van de serie Homecoming) voor Red Om Films. 

TICKET TO PARADISE is gefilmd op locatie in Queensland, Australië, met steun van de Australische overheid en van Screen Queensland's Production Attraction Strategy.

TICKET TO PARADISE draait nu alleen in de bioscoop.
Bron en foto © Copyright 2022 Universal Studios All Rights Reserved