[Horror] Sinds de release van cult-slasher Terrifier in 2016 hebben old school horrorfans de expressieve killer-clown Art in hun hart gesloten en de makers gesmeekt om een vervolg. En nu is er dan de genadeloze Terrifier 2, die na een zegetocht in de Amerikaanse bioscopen vanaf 19 januari 2023 ook het Nederlandse publiek zal laten gruwelen. 
Ook in dit tweede deel van de cult-classic is Art the Clown op mensenjacht en wordt iedereen op gruwelijke wijze uit de weg geruimd. In Amerika werd de horrorfilm als zo schokkend en gewelddadig ervaren, dat bioscoopgangers flauwvielen en moesten braken. Bioscopen besloten zelfs tot het uitdelen van kotszakjes. De film groeide direct uit tot een culthit in de Amerikaanse bioscopen waar Terrifier 2 al na een paar weken ruim 10 miljoen dollar opbracht.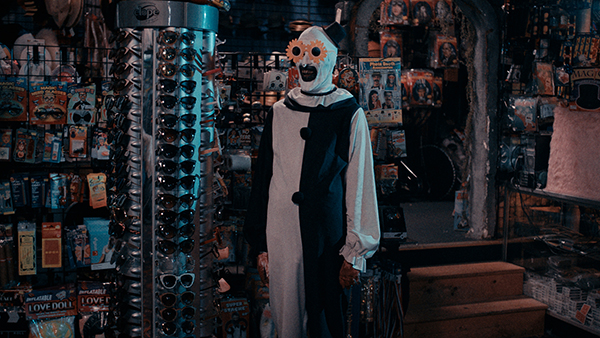 Over Terrifier 2
Het is een jaar sinds de beruchte slachtpartij in Miles Countyen en het stadje maakt zich op voor Halloween. Sienna is al maanden bezig aan haar sexy warrior-kostuum en haar broertje Jonathan denkt erover om verkleed te gaan als Art the Clown. Terwijl broer en zus ruziën over hoe ongepast het is om als een gestoorde serial killer verkleed te gaan, lijkt de échte Art the Clown herrezen uit de dood, en klaar om opnieuw een flinke ravage aan te richten.
Land: Amerika | Taal: Engels | Genre: horror | Cast: B David Howard Thornton, Lauren LaVera, Jenna Kanell | Regie: Damien Leone | Lengte: 138 minuten | Distributeur: Gusto Entertainment | Releasedatum: 19 januari 2023
Bron en foto © Gusto Entertainment