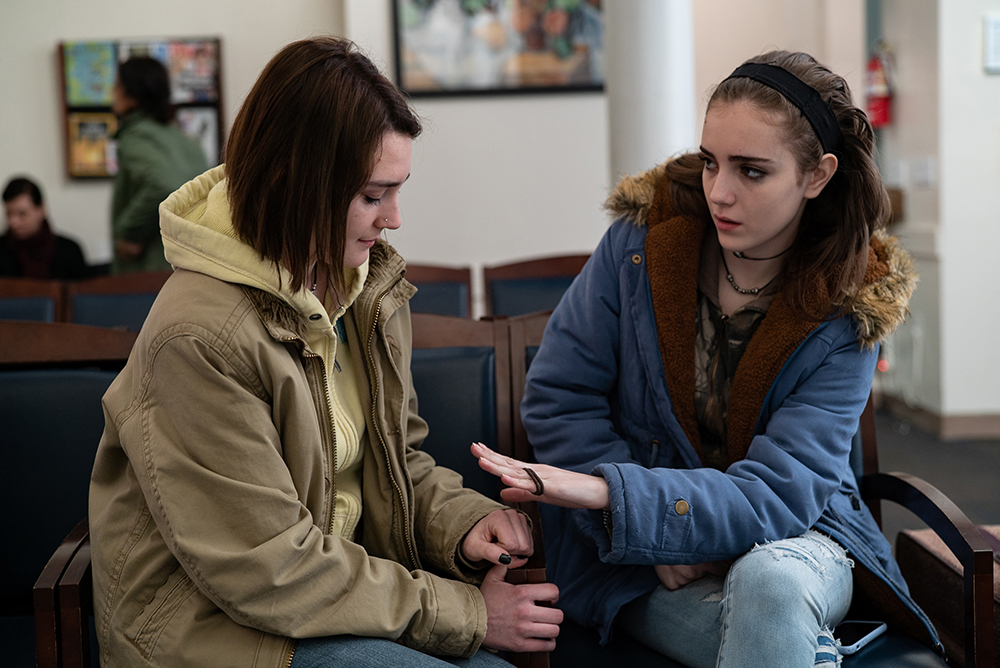 De ontroerende en meeslepende nieuwe film van regisseur Eliza Hittman – NEVER RARELY SOMETIMES ALWAYS – draait nu in 20 theaters in voorpremière. De film werd bekroond met de jury awards op zowel het Sundance Festival als het internationaal film festival van Berlijn (Berlinale). De 17-jarige Autumn (gespeeld door nieuwkomer Sidney Flanigan) is ongewenst zwanger, maar in het stadje in Pennsylvania waar ze woont heeft ze geen toegang tot een abortuskliniek, daarom reist ze met haar nicht (Talia Ryder) met de bus naar New York.

NEVER RARELY SOMETIMES ALWAYS heeft een buitengewoon hoge score van 99% fresh op RottenTomatoes. Lees hieronder een aantal recensies van de internationale pers.

"A perfectly observed portrait of female friendship; a coming-of-age story with road-movie inflections, piercingly honest and deeply affecting." – Observer

"Three films into her career, filmmaker Eliza Hittman continues to prove herself as one of contemporary cinema's most empathetic and skilled chroniclers of American youth." – IndieWire

"At once dreamlike and ruthlessly naturalistic, steadily composed yet shot through with roiling currents of anxiety, "Never Rarely Sometimes Always" is a quietly devastating gem." – Variety

"You come away from this movie weeping for the Autumns of this world but also awed by their endurance." – Boston Globe

NEVER RARELY SOMETIMES ALWAYS draait nu in voorpremière en is vanaf 2 juli te zien in 36 bioscopen.
VARIETY INTERVIEW
The actors and director Eliza Hittman talk about the film at the Variety Studio during the Sundance Film Festival.
LINCOLN CENTER INTERVIEW
Bekijk hier het interview met Eliza Hittman en Talia Ryder in de Lincoln Center in New York.
BUILD SERIES INTERVIEW
Bekijk hier het interview met Eliza Hittman, Sidney Flanigan en Talia Ryder voor BUILD
NEVER RARELY SOMETIMES ALWAYS is een intiem portret over twee tienermeiden, die opgroeien in het landelijke Pennsylvania en dat is geschreven en geregisseerd is door Eliza Hittman.

De 17-jarige Autumn (Sidney Flanigan) wordt geconfronteerd met een ongewenste zwangerschap en vanwege een gebrek aan steun in haar omgeving kan ze dit geheim moeilijk delen. Alleen haar nichtje en beste vriendin Skylar (Talia Ryder) begrijpt haar situatie en zonder veel woorden met elkaar te wisselen besluit zij direct om Autumn te helpen. Met het adres van een abortuskliniek in Brooklyn op zak reizen ze samen de staatsgrens over naar New York. Het wordt een emotionele reis waarbij ze meer leren over vriendschap, moed en medeleven.
Bron © Universal Pictures