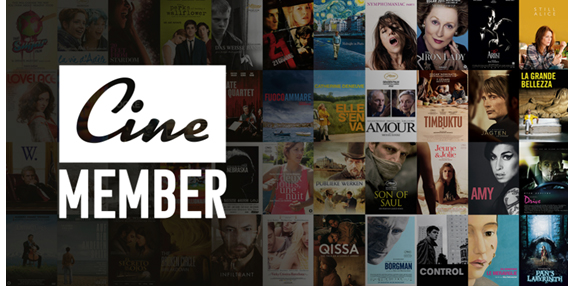 Video on demand-platform CineMember start met het aanbieden van huur- en koopfilms naast de huidige abonnementsvorm. Vanaf heden is het mogelijk om de meest recente arthousefilms – die net uit de bioscoop zijn – eenmalig te huren óf te kopen. Tot voor kort bood CineMember enkel de mogelijkheid om een abonnement af te sluiten dat onbeperkt toegang geeft tot meer dan 650 arthousefilms die je voor een vast bedrag per maand kunt kijken. Het platform plaatst zich met deze nieuwe structuur naast andere aanbieders van huur- en/of koopfilms zoals Pathé Thuis, Cinetree, Ziggo Movies en Series en iTunes. 

De huidige abonnementsformule waarbij je voor een vast bedrag per maand toegang hebt tot een abonnee-catalogus met meer dan 650 (inter)nationale, veelal prijswinnende kwaliteitsfilms, blijft onveranderd. "Het enige verschil is dat de allernieuwste films, vers uit de bioscoop, nu ook voortaan op CineMember te vinden zijn. Omdat we deze nog niet aan onze abonnee-catalogus kunnen toevoegen, bieden we ze aan als huur- of koopfilm. Op deze manier willen we een nog breder publiek aanspreken.", aldus directeur Rick Hartman.

Het aanbod aan huur- en koopfilms zal continu bestaan uit ongeveer 40 arthousefilms. Deze verschijnen kort na de bioscooprelease op CineMember en zijn vier maanden beschikbaar. Huurfilms kosten € 4,99 en dien je binnen 48 uur te kijken; koopfilms kosten € 9,99 en blijven voor onbepaalde tijd in je account beschikbaar. Om films te huren of te kopen hoef je geen abonnee te zijn. Films die vanaf nu te huur of te koop zijn, zijn o.a. Nous Finirons Ensemble, Der Goldene Handschuh en The Wild Pear Tree. In een later stadium zullen veel van deze films worden toegevoegd aan de catalogus die beschikbaar is voor abonnees.
CineMember is opgericht in mei 2018 en is een initiatief van September Film. Het platform wordt met content ondersteund door onder andere Cinéart, Paradiso, Cherry Pickers, Lumière, Cinemien, In The Air en Just Entertainment. CineMember is beschikbaar in zowel Nederland als in Vlaanderen; de Franstalige website is in ontwikkeling. www.cinemember.nl