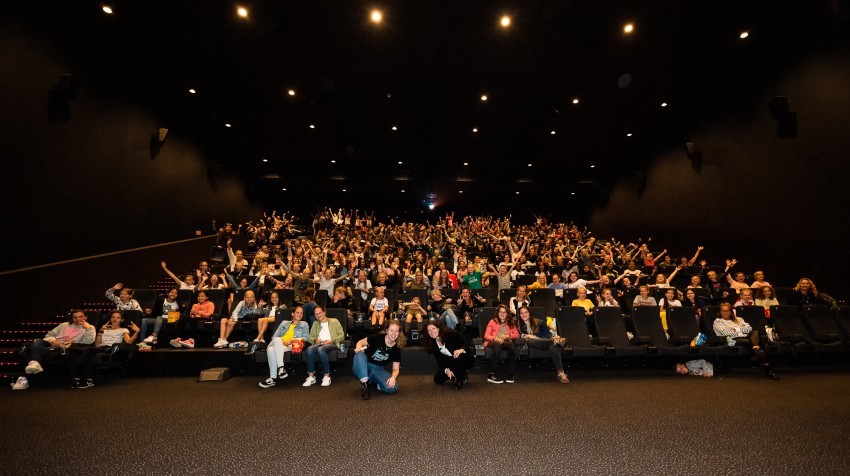 Afgelopen vrijdag stonden duizenden tienermeiden te stuiteren in Kinepolis bioscopen in heel Nederland. De voorpremière van Misfit 2 zorgde voor een recordaantal bezoekers voor de speciale Kinepolis MEIDEN Avond en bleek ook de drukst bezochte film van afgelopen vrijdag. Met 38% was het marktaandeel van Kinepolis opvallend hoog.
Tijdens de Kinepolis MEIDEN Avond kon je als een ster shinen op de roze loper, kreeg je een welkomstdrankje en een snack, kon je shoppen bij stands met beauty- en lifestyleproducten en ging je naar huis met een goodiebag. Lekkerder konden de tienermeiden het nieuwe schooljaar niet beginnen.
Over Misfit 2
In Misfit 2 komt Julia (Djamila) terug uit Amerika voor het nieuwe schooljaar en mag ze samen met Nick (Niek Roozen) meedoen aan een grote landelijke muziekwedstrijd: een droom die uitkomt. Maar wanneer Nick onverwacht van school switcht, wordt hij helemaal ingepakt door multitalent Babette (Tinne Oltmans), die hem zelfs overtuigt om samen met haar een nummer op te nemen. Om Nick terug te halen én de Battle of the Schools te winnen, zit er niks anders op voor Julia en haar Misfit-squad dan samen te werken met hun eeuwige rivalen: de VIP squad!