Meer dan 10.000 bezoekers hebben Thunderdome never dies, de documentaire over het iconische Thunderdome-feest, in de bioscoop gezien. De film heeft daarmee de Kristallen Film-status behaald. Regisseurs Ted Alkemade en Vera Holland, producenten Rogier Jaarsma en Edvard van 't Wout namen de award in ontvangst, samen met cameraman Bob Alkemade. De Kristallen Film Award is een initiatief van het Nederlands Film Festival en het Nederlands Filmfonds. Thunderdome never dies is de derde film die in 2019 de Kristallen Film Award ontvangt.
Thunderdome never dies vertelt het verhaal over het iconische verleden, de comeback in 2017 én de toekomst van het legendarische feest. Verhalen van de oprichters Duncan Stutterheim, Irfan van Ewijk (van ID&T) en Sander Groet (Mysteryland) of dj's als The Prophet, DJ Promo, DJ Dano, Da Mouth of Madness en Gizmo zorgen voor een exclusieve blik binnen Thunderdome. De documentaire sleept je mee in het diepe verleden van de gabbers door de vette beelden van de vroegere feesten. Lukt het Thunderdome om zichzelf opnieuw uit te vinden met een nieuwe generatie ravers? Thunderdome never dies is een trip down memory lane en kijkt uit naar de toekomst met de pioniers van toen en de nieuwe gezichten van nu.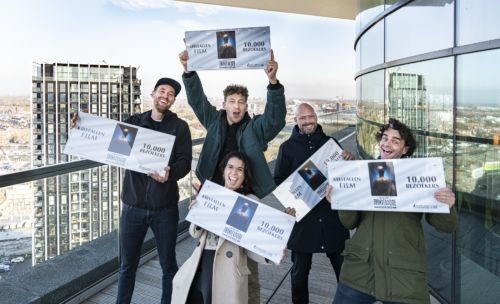 Thunderdome never dies werd geregisseerd door Ted Alkemade en Vera Holland. De film is geproduceerd door Deep Thought Productions en 2CFILM. Just Film Distribution verzorgt de filmdistributie van Thunderdome never dies, die momenteel in 37 bioscopen draait.
De Gouden Film, Platina Film en Diamanten Film worden door het Nederlands Film Festival en het Nederlands Filmfonds toegekend wanneer er voor een Nederlandse film tijdens de roulatie respectievelijk 100.000, 400.000 en 1.000.000 bioscoopkaartjes zijn verkocht. De Kristallen Film wordt uitgereikt aan Nederlandse documentaires die 10.000 bioscoopbezoekers hebben getrokken.(Foto: ©Joke Schut)