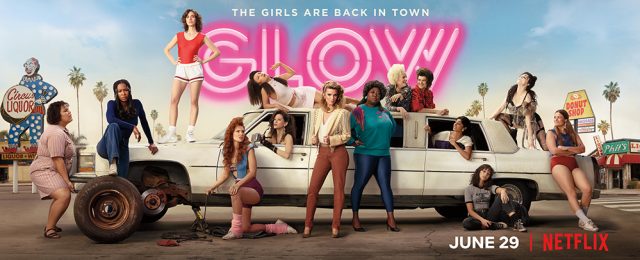 Het nieuwste seizoen van GLOW is wereldwijd op Netflix te zien vanaf morgen, 29 juni. Bekijk hieronder de trailer en de'behind the scenes' – clips en kijk mee hoe de cast zich mentaal en fysiek klaarstoomt voor een 2e seizoen worstelen!
Over GLOW S2
In seizoen 2 volgen we de vrouwen van GLOW op de voet terwijl ze lokale celebrities worden. Ze worden geconfronteerd met de goede maar ook slechte kanten van hun pas ontdekte roem. Ruth en Debbie worstelen niet alleen met het maken van hun eerste TV-seizoen; ook de pijnlijke gebeurtenis die hun vriendschap op het spel zette, suddert door. Sam is nog steeds gewoon… Sam. Maar nu heeft hij ook nog een tiener in huis én moet hij twintig afleveringen uit zijn mouw schudden. Het worstelen is harder, de inzet is hoger en het haar is nog groter, as if that was even possible.
Over GLOW
Showrunners: Liz Flahive, Carly Mensch
Executive Producers: Liz Flahive, Carly Mensch, Tara Hermann, & Jenji Kohan
Format: Comedy; 10 x 30-minute episodes
Cast – Regulars: Alison Brie, Betty Gilpin , Marc Maron, Sydelle Noel, Britney Young, Britt Baron, Kate Nash, Jackie Tohn, Gayle Rankin, Kia Stevens
Cast – Recurring: Sunita Mani, Rebekka Johnson, Kimmy Gatewood, Ellen Wong, Marianna Palka, Chris Lowell, Shakira Barrera, Bashir Salahuddin, Rich Sommer
GLOW vertelt het fictieve verhaal van Ruth Wilder (Alison Brie), een werkloze met zichzelf worstelende actrice in het Los Angeles van de jaren '80. Als ze gebeld wordt voor een onconventionele auditie, grijpt ze haar laatste strohalm naar stardom met beide handen aan en werpt zich in de met spandex en glitter besprenkelde wereld van het vrouwenworstelen. Naast werken met twaalf Hollywood misfits, moet Ruth concurreren met Debbie Eagan (Betty Gilpin) – een voormalig soapactrice die de industrie vaarwel heeft gezegd om een baby te krijgen – maar die terug wordt gezogen als blijkt dat haar ogenschijnlijk perfecte leventje niet is wat het lijkt. En aan het roer staat Sam Sylvia (Marc Maron), een B-film regisseur op zijn retour, die de zware taak krijgt om deze bonte bende te begeleiden naar de top.