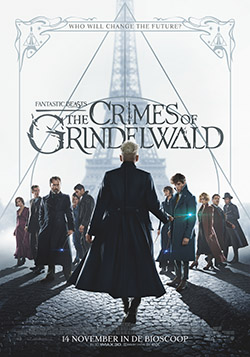 Aan het einde van de eerste film, werd de krachtige Duistere Magiër Gellert Grindelwald (Johnny Depp) met de hulp van Newt Scamander (Eddie Redmayne) gevangen genomen door MACUSA (Magisch Congres van de Verenigde Staten van Amerika). Maar, hij maakt zijn dreigementen waar en Grindelwald ontsnapt uit zijn gevangenschap. Hij heeft zijn zinnen gezet op het verzamelen van zoveel mogelijk volgelingen die niets afweten van zijn ware bedoelingen: tovenaars van zuiver bloed grootbrengen om te kunnen heersen over alle niet-magische wezens. In een poging om Grindelwald's plannen te dwarsbomen roept Albus Perkamentus (Jude Law) zijn voormalige student Newt Scamander op, die ermee instemt om te helpen maar zich niet bewust is van de gevaren die voor hem liggen. Lijnen worden getrokken en liefde en loyaliteit worden op de proef gesteld, zelfs tussen de meest trouwe vrienden en families. De verdeeldheid in de magische wereld wordt steeds groter.
Fantastic Beasts: The Crimes of Grindelwald draait vanaf 14 november in de bioscopen, ook in 3D, 4dx, Dolby Vision en Dolby Atmos
© 2018 Warner Bros. Ent. All Rights Reserved. Wizarding World™ Publishing Rights © J.K.R.
Regie:
J.K. Rowling
Cast:
Eddie Redmayne
Katherine Waterston
Alison Sudol
zra Miller
Zoë Kravitz
Dan Fogler
Claudia Kim
Jude Law,
Johnny Depp
Callum Turne
Genre:
Avontuur
Duur:
134 min
Distributie: Warner Bros