Deze week gaan de onder andere de volgende films in premiéres: Violent Night, Bones and all, Piece of my heart en Devotion waar we 5 x 2 bioscoopkaarten voor verloten!
Violent Night

[thriller, komedie, actie] Violent Night is een film van 87North, het productiehuis van actiefilms als Nobody, John Wick, Atomic Blonde, Deadpool 2 en Fast & Furious: Hobbs & Shaw. Het is een duistere kerstthriller met een duidelijke boodschap: zet altijd in op rood. Een team huurlingen breekt op kerstavond in bij een rijke familie en neemt iedereen in huis in gijzeling. Maar ze hebben niet gerekend op de aanwezigheid van de kerstman, gespeeld door David Harbour (Black Widow, serie Stranger Things). Ze komen er snel achter dat de lieve kindervriend ook een heel andere kant heeft. In de film spelen verder ook Emmy-winnaar John Leguizamo (John Wick), Edi Patterson (The Righteous Gemstones), Cam Gigandet (Without Remorse), Alex Hassell (Cowboy Bebop), Alexis Louder (The Tomorrow War) en Beverly D'Angelo (National Lampoon's Vacation-franchise). Violent Night wordt geregisseerd door de vlijmscherpe Noorse regisseur Tommy Wirkola (Hansel & Gretel: Witch Hunters, Dead Snow-franchise) en geproduceerd door Kelly McCormick, David Leitch en Guy Danella van 87North. Het scenario is geschreven door Pat Casey en Josh Miller, de schrijvers van Sonic the Hedgehog. Ook in: IMAX, Dolby Cinema, 4D
Devotion + WIN!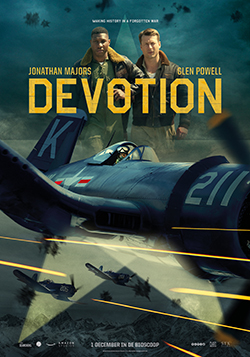 [oorlog, actie, drama] 1950, Koreaanse Oorlog. Twee jonge mannen, Tom Hudner (Glen Powell) en Jesse Brown (Jonathan Majors), worden geselecteerd voor een prestigieuze eenheid van de marine. Tom is marineofficier, Jesse een getalenteerde piloot die als eerste Afro-Amerikaan voor de Amerikaanse marine vliegt. Tijdens de zware militaire opleiding groeit er een hechte vriendschap tussen de twee die op de proef wordt gesteld wanneer één van hen op vijandelijk gebied wordt neergeschoten. Devotion is gebaseerd op het gelijknamige boek van Adam Makos en wordt geregisseerd door J.D. Dillard met in de hoofdrollen onder andere Glen Powell (Top Gun: Maverick, Hidden Figures), Jonathan Majors (Da 5 Bloods, White Boy Rick) en Joe Jonas. Ook in Dolby Atmos
Bones and All

[drama, romantiek, thriller] Metro Goldwyn Mayer Pictures presenteert Bones and All, een film over liefde, geregisseerd door Luca Guadagnino ("Call Me by Your Name"), die hiervoor in 2022 op het filmfestival van Venetië de Zilveren Leeuw voor beste regisseur won. Bones and All gaat over de liefde die ontstaat tussen Maren (Taylor Russell), een jonge vrouw die probeert te overleven aan de randen van de samenleving, en Lee (Timothée Chalamet), een nogal intense dakloze jongen. Samen ondernemen ze een ware odyssee, die hen voert langs de achterafweggetjes, verborgen doorgangen en valluiken van het Amerika van Ronald Reagan. Maar uiteindelijk leiden alle wegen toch terug naar hun angstaanjagende verleden en naar een beslissend moment dat zal bepalen of hun liefde hun anders-zijn kan overwinnen. In Bones and All zien we Taylor Russell ("Waves", "The Heart Still Hums"), die dit jaar de Marcello Mastroianni Award voor beste jonge acteur won op het filmfestival van Venetië; Timothée Chalamet (Oscar-genomineerd voor "Call Me by Your Name", "Dune"); Michael Stuhlbarg ("Call Me by Your Name", "The Shape of Water"); André Holland ("Passing", "Moonlight"); Chloë Sevigny ("We Are Who We Are", "American Horror Story"); David Gordon Green ("Halloween Ends", "The Unbearable Weight of Massive Talent"); Jessica Harper ("Suspiria", "Minority Report"); Jake Horowitz ("Adam Bloom", "The Vast of Night"); en Mark Rylance (Oscar-winnaar voor "Bridge of Spies", "Wolf Hall"). Het scenario is van David Kajganich ("Suspiria", "A Bigger Splash"), gebaseerd op het boek van Camille DeAngelis. De film wordt geproduceerd door Luca Guadagnino, Theresa Park, Marco Morabito, David Kajganich, Francesco Melzi d'Eril, Lorenzo Mieli, Gabriele Moratti, Peter Spears en Timothée Chalamet. Uitvoerend producenten zijn Giovanni Corrado, Raffaella Viscardi, Moreno Zani, Marco Colombo en Jonathan Montepare. Guadagnino wordt achter de camera bijgestaan door director of photography Arseni Khatchaturan ("Eyimofe (This Is My Desire)", "The Idol"), production designer Elliot Hostetter ("Beckett", "Waves"), editor Marco Costa ("We Are Who We Are," "Suspiria"), kostuumontwerper Giulia Piersanti ("Suspiria", "Call Me by Your Name") en componisten Trent Reznor en Atticus Ross ("Soul", "Mank"). Metro Goldwyn Mayer Pictures presenteert een productie van Frenesy Film Company / Per Capita Productions, in samenwerking met The Apartment Pictures / Memo Films, 3 Marys Entertainment / Elafilm / Tenderstories. "Bones and All" wordt internationaal gedistribueerd door Warner Bros. Pictures.
Piece of My Heart

[Drama] Amsterdam, de jaren 70. Terwijl Olga en Irma, beiden getalenteerde danseressen, zich staande proberen te houden in de veeleisende en ambitieuze balletwereld, wordt Olga als de grote nieuwe ster van het Koninklijk Ballet gelanceerd. Al snel ontdekt Olga ook de schaduwzijde van haar talent en moet Irma toezien hoe haar beste vriendin bezwijkt onder de prestatiedruk, zichzelf verliezend in het losbandige nachtleven. Piece of My Heart vertelt het verhaal over uitzonderlijk talent, maar bovenal dat van een ultieme vriendschap.