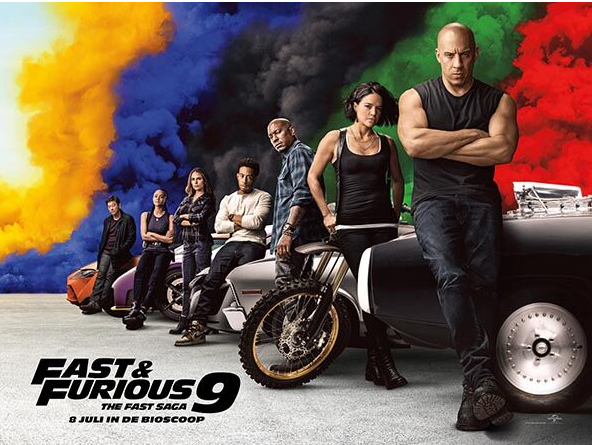 Bekijk nu de nieuwe FAST & FURIOUS 9 featurette 'Total Car-nage' met behind-the-scenes beelden van de vele stunts (en auto's die vernield worden) op de set van de film.

20 JAAR FAST & FURIOUS
De Fast & Furious franchise bestaat 20 jaar!

In hoeveel landen is er gefilmd? Hoeveel auto's zijn er vernield tijdens de opnames?
De antwoorden op deze vragen en vele andere leuke weetjes, vind je in de Fast Fact Sheet.
EW's Binge: The Fast Saga Podcast
Vandaag verschijnt de tweede aflevering van EW's Binge Podcastserie over The Fast Saga. Luister en abonneer via: www.ew.com/fast
No matter how fast you are, no one outruns their past.

Dominic Toretto (Vin Diesel) leidt een rustig bestaan samen met Letty (Michelle Rodriguez) en zijn zoontje Brian. Beiden weten dat het gevaar altijd op de loer ligt. Dit keer heeft de dreiging te maken met het verleden van Dom. Hij moet de fouten uit zijn verleden onder ogen zien als hij zijn familie wil beschermen. Zijn crew komt weer samen om een van de meest gevaarlijke huurmoordenaars en high-performance drivers ooit te stoppen. Wanneer blijkt dat dit Doms verdwenen broer Jakob is, (John Cena) wordt deze levensbedreigende situatie nog ingewikkelder.

De regie van FAST & FURIOUS 9 is in handen van Justin Lin die ook aan het roer stond van de derde, vierde, vijfde en zesde succesvolle delen uit de franchise (The Fast and the Furious: Tokyo Drift, Fast & Furious, Fast Five, Fast & Furious 6). Deze spectaculaire nieuwe film neemt je mee van Londen tot Tokyo, van Midden-Amerika tot Edinburgh en van een geheime bunker in Azerbeidzjan tot de drukke straten van Tblisi.

Verder met o.a. Michelle Rodriguez, Tyrese Gibson, Chris 'Ludacris' Bridges, Jordana Brewster, Nathalie Emmanuel, Sung Kang, Helen Mirren, Charlize Theron, John Cena en Cardi B.

FAST & FURIOUS 9 is geproduceerd door Neal H. Moritz, Vin Diesel, Jeff Kirschenbaum, Joe Roth, Justin Lin, Clayton Townsend en Samantha Vincent.

#F9 #FastandFurious

FAST & FURIOUS 9 draait vanaf 8 juli a.s. in de bioscoop, in 3D.
Bron © Universal Pictures international