De mannen van Kris Kross Amsterdam blijven de komende jaren te horen op de zaterdagavond van Qmusic. Dit is zojuist bekend gemaakt tijdens de Q-middagshow met Domien Verschuuren, waar ze ook de primeur gaven van hun nieuwste single 'Stay', een samenwerking met SERA en Conor Maynard
Het bekende dj-trio Kris Kross Amsterdam, bestaande uit Jordy Huisman, Sander Huisman en Yuki Kempees, is niet meer weg te denken uit de Nederlandse hitlijsten. Naast het maken van hitsingles hebben ze elke zaterdagavond hun eigen show op Qmusic tussen 21:00 en 22:00 uur. Een energiek uur vol hits met een unieke touch van Kris Kross Amsterdam. Het drietal blijft de komende jaren op de zaterdagavond te horen op Qmusic.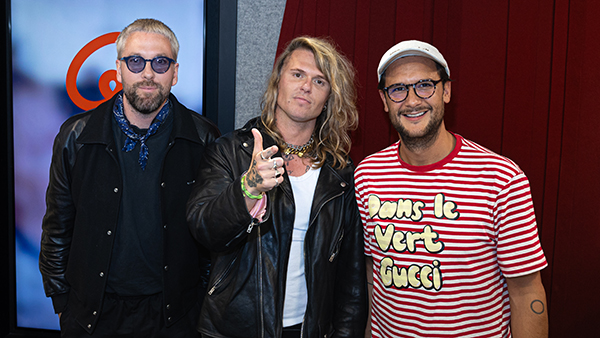 Tijdens de Q-middagshow onthulden de heren ook hun nieuwste single, 'Stay', een samenwerking met Conor Maynard en SERA. Eerder scoorde Kris Kross Amsterdam met Conor Maynard al drie Top 40 hits waaronder, 'Are You Sure' en 'Early in the Morning'. SERA brak in 2021 door met haar debuutsingle 'Only Us' en heeft inmiddels al vier Top 40 hits op haar naam.Kris Kross Amsterdam
De mannen van Kris Kross Amsterdam scoren hit na hit met hun typerende sound. Met nummers als 'Vluchtstrook', Hij is van mij', 'Whenever' en 'How You Samba' heeft Kris Kross Amsterdam de afgelopen jaren maar liefst elf keer de top 10 en zelfs 8 keer de top 3 van de Top 40 bereikt. Ze staan bekend om hun spraakmakende samenwerkingen met artiesten, onder wie Antoon, Sigourney K, Tino Martin en zelfs de Amerikaans-Jamaicaanse rapper Shaggy. Met hem namen ze het nummer 'Early In The Morning' op.
Bron: Qmusic Foto © Vincent van Dordrecht