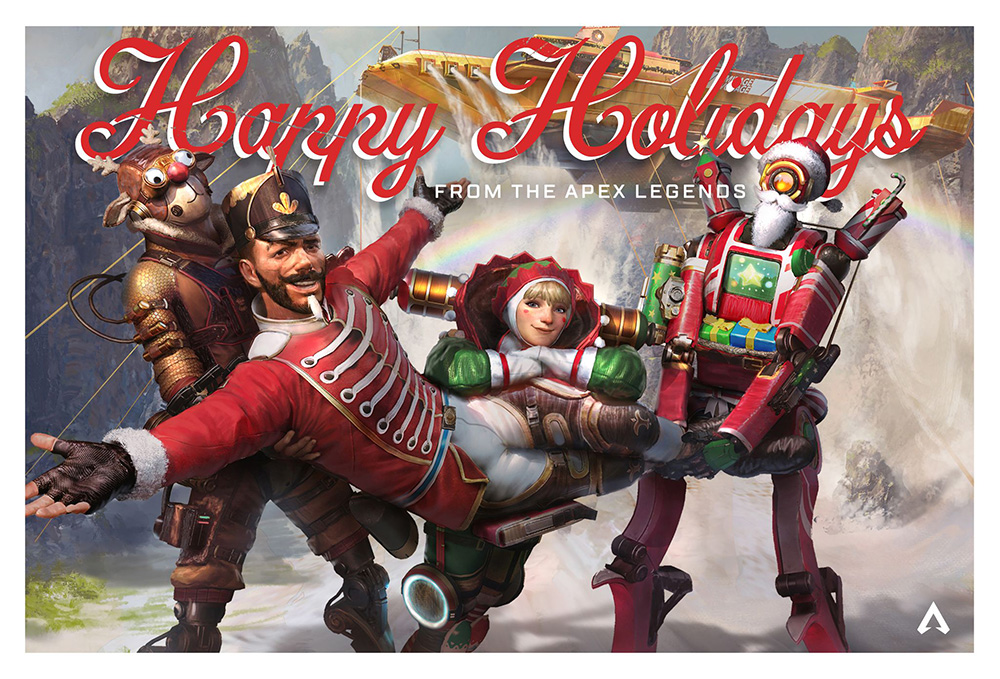 De eigenzinnige duplicator Mirage kondigde het tijdens The Game Awards al aan: Apex Legends raakt volledig in de feeststemming, dankzij het nieuwe, tijdelijke event Mirage's Holo-Day Bash. Nu beschikbaar tot 7 januari.
Tijdens deze viering kunnen spelers aan de slag met nieuwe uitdagingen. Ook kunnen zij tijdelijk beschikbare cosmetics vrijspelen én een kant van Mirage leren kennen die ze nog niet kenden. Spring aan boord van Mirage's partyboot of ga de strijd aan op een gedecoreerde trein in een nieuwe, tijdelijke modus.
Hieronder is een recap te vinden van de tijdelijke Holo-Day Bash-activiteiten die op de planning staan:
Tijdelijke modus: Winter Express – Drie squads nemen het tegen elkaar op om de trein van World's Edge te veroveren, die zich verplaatst van station naar station. Hier is sprake vooraf bepaalde loadouts, zodat spelers het looten kunnen skippen en direct kunnen overgaan op de schietactie. De eerste squad die het voor elkaar krijgt om drie keer te capturen wint de match.
De Mirage Voyage Town Takeover – Spring aan boord van de Mirage Voyage partyboot voor hét winterse event van de 28ste eeuw! Deze town takeover nodigt Legends en hun favoriete wapen om de hot tub uit te proberen en een dansje te wagen op de dansvloer. Breng het feestje naar een volgend level door op een knop te drukken die voor een mooie vuurwerkshow zorgt. Vier het feest mee en speel een gratis, Legendary G7 skin vrij.
Pathfinder Heirloom en tijdelijk beschikbare cosmetics – Het Holo-Day Bash Collection Event introduceert een set van 24 thematische, tijdelijk beschikbare cosmetics die volledig in stijl zijn vormgegeven van de feestdagen. Deze zijn direct aan te schaffen met Apex Coins, direct vrij te spelen met Crafting Metals of in Apex Packs. Speel alle 24 Holo-Day Bash Collection Pack-items vrij en ontvang de Pathfinder Heirloom set gratis.
Mirage kwam onlangs tot leven op het podium van The Game Awards. Er werd voor de allereerste keer op een live event in de Verenigde Staten gebruikgemaakt van real-time motion capture, waardoor een virtueel personage kon interacteren met host Geoff Keighley in real-time.
Fijne Holo-Days!