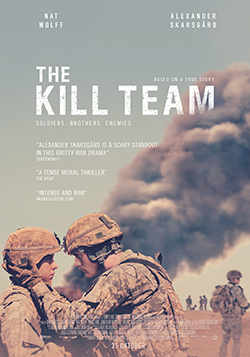 Andrew Briggman (Nat Wolff) is een jonge soldaat die tijdens de Amerikaanse invasie van Afghanistan zijn intrede maakt in een peloton dat wordt geleid door de sadistische leider sergeant Deeks (Alexander Skarsgård). Wanneer Andrew getuige is van moord op onschuldige burgers door soldaten uit zijn peloton, komt hij voor een groot moreel dilemma te staan. Hij overweegt melding te maken van deze gebeurtenissen – maar het zwaarbewapende, steeds gewelddadiger peloton wordt achterdochtig en Andrew begint te vrezen dat hij het volgende doelwit wordt. The Kill Team is een urgent en explosief van één van de donkerste incidenten in de geschiedenis van het Amerikaanse leger, geschreven en geregisseerd door Dan Krauss en gebaseerd op de gebeurtenissen waarop zijn gelijknamige, prijswinnende documentaire van 2013 is geïnspireerd.
The Kill Team draait vanaf 31 oktober in de bioscopen
Regie:
Dan Krauss
Cast:
Nat Wolff
Alexander Skarsgård
Adam Long
Jonathan Whitesell
Brian Marc
Osy Ikhile
Rob Morrow
Anna Francolini
Oliver Ritchie
Genre:
Actie
Duur:
87 min
Wij geven The Kill Team bioscoopkaarten weg!
3 x 2 Bioscoopkaarten
1. Kies hieronder de juiste categorie en een Winactie.
2. Klik op 'deelnemen' en je doet automatisch mee met deze actie!
3. Zorg wel dat je gegevens correct zijn ingevuld!