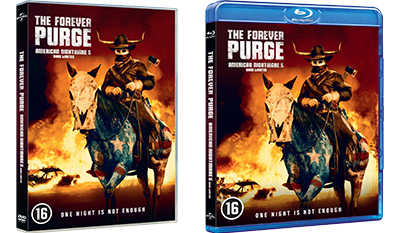 This time there are no rules.

Deze winter worden alle regels gebroken in THE FOREVER PURGE wanneer een sekte van anarchistische plunderaars besluit dat de jaarlijkse 'Purge' (Zuivering) niet stopt bij zonsopgang, maar nooit zal eindigen. In dit nieuwe hoofdstuk van de succesvolle horrorfranchise van Blumhouse zijn de leden van een ondergrondse beweging niet langer tevreden met één nacht per jaar waarin alle misdaden zijn toegestaan. Ze plegen een coup en zorgen voor oneindige chaos en slachtpartijen. Niemand is meer veilig.
Adela (Ana de la Reguera, Cowboys & Aliens) en haar man Juan (Tenoch Huerta, Days of Grace) wonen in Texas, waar Juan werkt op de ranch van de rijke familie Tucker. Juan maakt indruk op pater familias Caleb (Will Patton, Halloween), wat jaloezie opwekt bij Calebs zoon Dylan (Josh Lucas, Ford v Ferrari). Op de ochtend na The Purge valt een gemaskerde bende moordenaars de familie Tucker aan – inclusief Dylans vrouw (Cassidy Freeman, The Righteous Gemstones van HBO) en zijn zus (Leven Rambin, The Hunger Games). Beide families worden gedwongen om samen te werken en terug te vechten terwijl het land in chaos verkeert en de Verenigde Staten om hen heen uit elkaar beginnen te vallen.
THE FOREVER PURGE is geregisseerd door Everardo Gout, schrijver-regisseur van de bekroonde thriller Days of Grace. Het scenario is geschreven door James DeMonaco, de bedenker van de franchise. De film wordt geproduceerd door Jason Blum namens Blumhouse Productions, Platinum Dunes partners Michael Bay, Andrew Form en Brad Fuller en Man in a Tree duo James DeMonaco en Sébastien K. Lemercier. De uitvoerend producenten van de film zijn Marcei A. Brown, Everardo Gout en Jeanette Volturno.


THE FOREVER PURGE is vanaf nu verkrijgbaar op DVD en Bluray
Regie:
Everardo Gout
Cast:
Tenoch Huerta
Ana de la Reguera
Cassidy Freeman
Will Patton
Genre:
Horror, Thriller
Duur: 104 Min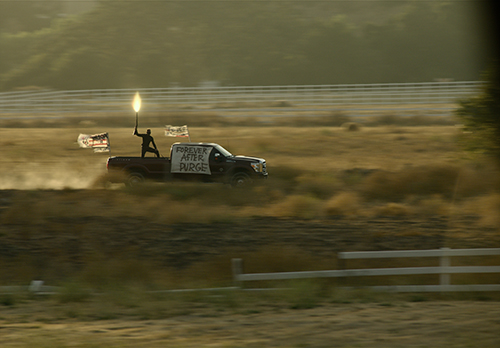 Wij geven The Forever Purge 5: American Nightmare dvd of bluray weg!

2 x DVD
3 x Bluray
LET OP! ZORG DAT JE INGELOGD BENT, ALLEEN MEMBERS MAKEN KANS!
1. Kies hieronder de juiste categorie en een Winactie.
2. Klik op 'deelnemen' en je doet automatisch mee met deze actie!
3. Zorg wel dat je gegevens correct zijn ingevuld!

Bron en foto © Copyright 2021 Universal Studios All Rights Reserved