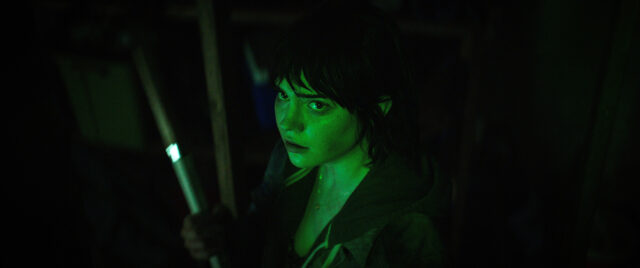 [Horror, Thriller] The Boogeyman is een horror-thriller van 20th Century Studios en is bedacht door bestsellerauteur Stephen King. De film vertelt het verhaal van middelbare scholier Sadie Harper en haar jongere zus Sawyer die de recente dood van hun moeder aan het verwerken zijn. Ze krijgen hierbij weinig steun van hun vader Will, een therapeut die met zijn eigen pijn kampt. Wanneer een wanhopige patiënt onverwacht bij hen thuis verschijnt om hulp te zoeken, laat hij een angstaanjagende bovennatuurlijke entiteit achter die op families jaagt en zich voedt met het lijden van zijn slachtoffers. The Boogeyman is geregisseerd door Rob Savage (Host) en het scenario is geschreven door Scott Beck & Bryan Woods (A Quiet Place) en Mark Heyman (Black Swan). De film is gebaseerd op het korte verhaal van Stephen King en de adaptatie naar een biscoopfilm is gedaan door Scott Beck & Bryan Woods. In de hoofdrollen schitteren Sophie Thatcher (Yellowjackets), Chris Messina (Birds of Prey), Vivien Lyra Blair (Obi-Wan Kenobi), Marin Ireland (The Umbrella Academy), Madison Hu (Bizaardvark), LisaGay Hamilton (Vice) en David Dastmalchian (Dune). De producenten zijn Shawn Levy (Stranger Things), Dan Levine (Arrival) en Dan Cohen (The Adam Project). John H. Starke (Sicario), Emily Morris (Rosaline), Scott Beck, Bryan Woods, Ryan Cunningham, Adam Kolbrenner (The Tomorrow War) en Robin Meisinger zijn de uitvoerend producenten.
The Boogeyman draait vanaf 1 juni in de bioscopen, ook in Dolby Atmos
Regie:
Rob Savage
Cast:
David Dastmalchian
Sophie Thatcher
Chris Messina
Marin Ireland
Vivien Lyra Blair
LisaGay Hamilton
Madison Hu
Maddie Nichols
Genre:
Horror, thriller
Duur: 98 min
Wij geven Thje Boogeyman bioscoopkaarten weg
3 x 2 Bioscoopkaarten
-Maak gratis een account aan als je die nog niet hebt
-Zorg dat je ingelogd bent
-Zorg dat je gegevens kloppen
-kies categorie 'Bioscopen'
LET OP: Kun je geen account aanmaken? KLIK DAN HIER
1. Kies hieronder de juiste categorie en een Winactie.
2. Klik op 'deelnemen' en je doet automatisch mee met deze actie!
3. Zorg wel dat je gegevens correct zijn ingevuld!

Bron en foto © The Walt Disney Company