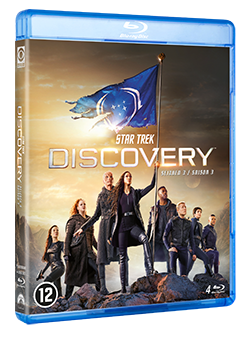 In dit derde seizoen landt de U.S.S. Discovery in een onherkenbare wereld, 1000 jaar verder in de toekomst. Starfleet en de Federation staan op het punt om in te storten als gevolg van een catastrofale gebeurtenis, die bekend staat als The Burn. De Discovery crew moet, met de hulp van mysterieuze, nieuwe bondgenoten Book (David Ajala) en Adira (Blu del Barrio), ontdekken wat The Burn heeft veroorzaakt. Ze zullen proberen de hoop in de Melkweg te herstellen.

Star Trek: Discovery Seizoen 3 is nu verkrijgbaar op dvd en bluray
WIJ GEVEN STAR TREK: DISCOVERY SEIZOEN 3 BLURAY WEG! ( Kies categorie tv-series)
3 x Bluray
1. Kies hieronder de juiste categorie en een Winactie.
2. Klik op 'deelnemen' en je doet automatisch mee met deze actie!
3. Zorg wel dat je gegevens correct zijn ingevuld!

© Dutch FilmWorks