Het walhalla nadert voor onze favoriete vikingen, want na zes spectaculaire seizoenen is hun tocht ten einde. Zoals het echte vikingen betaamt zorgen ze echter voor een knallende afsluiter!

Geniet een laatste keer van woeste expedities, spannende gevechten en stomende passie in het zesde seizoen van Vikings, vanaf 6 april beschikbaar op Blu-ray™ en DVD! Die dag is ook de boxset verkrijgbaar, die alle zes seizoenen bundelt. Onmisbaar voor de fans!
Het seizoen concentreert zich op de heerschappij van Koning Bjorn over Kattegat, de avonturen van Ivar in Rus' en Wessex, en de expedities van Ubbe naar IJsland en Noord-Amerika (Groenland en Canada).
Vikings Seizoen 6 is nu verkrijgbaar op DVD en Bluray, ook als boxset S1-S6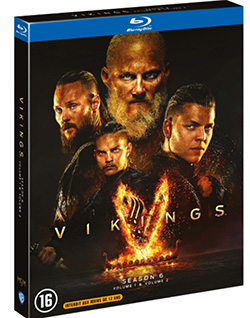 BONUSMATERIALEN
The Legacy of Lagertha Featurette
The Creator's Audio Commentary – The Best Laid Plans
The Epic Worlds of Vikings
The Vikings Series Finale Audio Commentary with Creator Michael Hirst and Actress Georgia Hirst
Deleted Scenes
Wij geven Vikings: Seizoen 6 op Bluray weg!
3 x bluray (onder categorie TV series)
LET OP! ZORG DAT JE INGE LET OP!LET OP! ZORG DAT JE INGE LET OP! ZORG DAT JE INGELOGD BENT, ALLEEN MEMBERS MAKEN KANS!
1. Kies hieronder de juiste categorie en een Winactie.
2. Klik op 'deelnemen' en je doet automatisch mee met deze actie!
3. Zorg wel dat je gegevens correct zijn ingevuld!

Bron en foto © Warner Bros