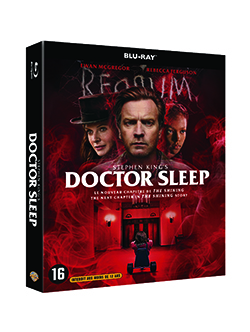 Doctor Sleep is een vervolg op het verhaal van Danny Torrance, 40 jaar na zijn angstaanjagende bezoek aan het Overlook Hotel in The Shining. Ewan McGregor, Rebecca Ferguson en nieuwkomer Kyliegh Curran spelen in de bovennatuurlijke thriller, geregisseerd door Mike Flanagan, die zijn scenario baseerde op het boek van Stephen King. Ondanks dat hij nog steeds getekend is door het trauma dat hij heeft opgelopen als kind in Overlook, heeft Dan Torrance iets van rust weten te vinden. Maar aan die rust komt abrupt een einde wanneer hij Abra ontmoet, een moedige tiener met haar eigen krachtige en buitengewone gave, beter bekend als het "licht". Wetende dat Dan over dezelfde krachten beschikt, vraagt Abra hem om hulp tegen de meedogenloze Rose the Hat en haar volgers, The True Knot. Zij nemen het licht van onschuldigen af in hun zoektocht naar onsterfelijkheid. Door een onwaarschijnlijk bondgenootschap te vormen, raken Dan en Abra betrokken bij een wrede strijd op leven of dood met Rose. Abra's onschuldigheid en onbevreesde omarming van haar licht dwingen Dan om zijn eigen krachten te gebruiken zoals hij dat nog nooit eerder heeft gedaan. Waardoor hij zijn angsten onder ogen moet komen en de geesten uit het verleden opnieuw moet laten ontwaken. Doctor Sleep met Ewan McGregor (Star Wars: Episodes I, II & III, T2 Trainspotting) als Dan Torrance, Rebecca Ferguson (de Mission: Impossible-films, The Greatest Showman) als Rose the Hat, en Kyliegh Curran, in haar speelfilmdebuut, as Abra. De film bevat tevens rollen van Carl Lumbly, Zahn McClarnon, Emily Alyn Lind, Bruce Greenwood, Jocelin Donahue, Alex Essoe en Cliff Curtis. Trevor Macy en Jon Berg hebben de film geproduceerd, met Roy Lee, Scott Lumpkin, Akiva Goldsman en Kevin McCormick als uitvoerend producent. Flanagan's creatieve team achter de schermen bestond uit cameraregisseur Michael Fimognari (The Haunting of Hill House), productieontwerpers Maher Ahmad (Get Hard) en Elizabeth Boller (Hush), en kostuumdesigner Terry Anderson (Den of Thieves). De muziek is gecomponeerd door The Newton Brothers (The Haunting of Hill House). Warner Bros. Pictures presenteert, een Intrepid Pictures/Vertigo Entertainment productie, een Mike Flanagan film: Doctor Sleep. Wereldwijd gedistribueerd door Warner Bros. Pictures.
Doctor Sleep is nu verkrijgbaar op DVD, Bluyray en 4K
© 2019 Warner Bros. Pictures. All rights reserved
Regie:
Mike Flanagan
Cast:
Ewan McGregor
Carl Lumbly
Rebecca Ferguson
Kyliegh Curran
Zahn McClarnon
Jocelin Donahue
Emily Alyn Lind
Alex Essoe
Bruce Greenwood
Cliff Curtis
Genre:
Thriller
Duur:
151 min
Wij geven Doctor Sleep blurays weg!
2x Blurays
1. Kies hieronder de juiste categorie en een Winactie.
2. Klik op 'deelnemen' en je doet automatisch mee met deze actie!
3. Zorg wel dat je gegevens correct zijn ingevuld!