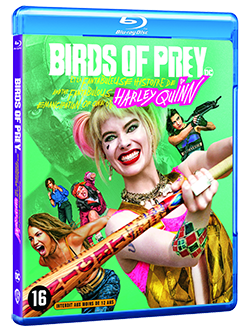 Ken je die grap van de agent, de zangvogel, de psychopaat en de maffia-prinses? Birds of Prey (And the Fantabulous Emancipation of One Harley Quinn) is een bizar verhaal verteld door Harley zelf, zoals alleen Harley dat kan. Heel Gotham wordt overhoop gehaald nadat Roman Sionis, de grootste en meest narcistische schurk van de stad, en zijn toegewijde rechterhand Zsasz een prijs op het hoofd van het jonge meisje Cass hebben gezet. Dit leidt ertoe dat de paden van Harley, Huntress, Black Canary en Renee Montoya elkaar kruisen, waarna dit bijzondere viertal met elkaar zal moeten samenwerken om Roman te verslaan. In deze film van Warner Bros. Pictures keert Margot Robbie ("I, Tonya") terug als Harley Quinn. Daarnaast zien we Mary Elizabeth Winstead ("10 Cloverfield Lane", tv- serie "Fargo") als Huntress, Jurnee Smollett-Bell (HBO's "True Blood") als Black Canary, Rosie Perez ("Fearless", "Pitch Perfect 2") als Renee Montoya, Chris Messina ("Argo", tv-serie "Sharp Objects") als Victor Zsasz, en Ewan McGregor ("Doctor Sleep", de "Trainspotting"-films) als Roman Sionis. De jonge actrice Ella Jay Basco maakt als Cassandra "Cass" Cain haar speelfilmdebuut. De film, geregisseerd door Cathy Yan ("Dead Pigs") naar het script van Christina Hodson ("Bumblebee"), is gebaseerd op de personages van DC. Robbie heeft ook als producent opgetreden, samen met Bryan Unkeless en Sue Kroll. De uitvoerende producenten van de film zijn Walter Hamada, Galen Vaisman, Geoff Johns, Hans Ritter en David Ayer. Yan werd achter de schermen bijgestaan door director of photography Matthew Libatique ("A Star Is Born", "Venom"), production designer K.K. Barrett ("Her"), editors Jay Cassidy ("American Hustle", "Silver Linings Playbook") en Evan Schiff ("John Wick Chapters 2 & 3"), en kostuumontwerpster Erin Benach ("A Star Is Born"). De muziek is van Daniel Pemberton ("Spider-Man: Into the Spider-Verse"). Warner Bros. Pictures presenteert "Birds of Prey (and the Fantabulous Emancipation of One Harley Quinn)", een productie van LuckyChap Entertainment, Clubhouse Pictures en Kroll & Co. Entertainment. De film wordt gedistribueerd door Warner Bros. Pictures.
Regie:
Cathy Yan
Cast:
Margot Robbie,
Mary Elizabeth Winstead
Ewan McGregor
Jurnee Smollett-Bell
Chris Messina
Rosie Perez
Genre:
Actie, avontuur
Duur:
110 min
Wij geven Birds of Prey blurays weg!
2x blurays
1. Kies hieronder de juiste categorie en een Winactie.
2. Klik op 'deelnemen' en je doet automatisch mee met deze actie!
3. Zorg wel dat je gegevens correct zijn ingevuld!