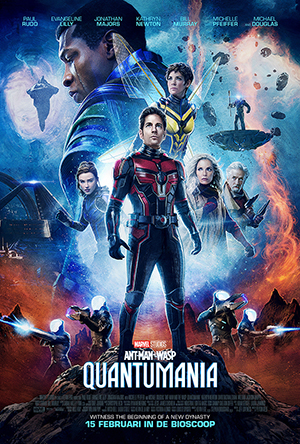 In Ant-Man and the Wasp: Quantumania keren superheldenpartners Scott Lang (Paul Rudd) en Hope van Dyne (Evangeline Lilly) terug op het grote doek om hun avonturen als Ant-Man en The Wasp voort te zetten. Samen met Hope's ouders Hank Pym (Michael Douglas) en Janet van Dyne (Michelle Pfeiffer) verkennen ze de Quantum Realm, waarbij er vreemde nieuwe wezens op hun pad komen. Zo beginnen ze aan een avontuur dat ze voorbij de grenzen zal brengen van wat ze voor mogelijk hielden. In Ant-Man and the Wasp: Quantumania is Jonathan Majors te zien als Kang. De film wordt geregisseerd door Peyton Reed; Kevin Feige en Stephen Broussard zijn de producenten.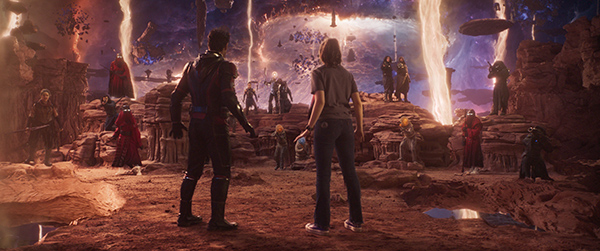 Ant-Man and the Wasp: Quantumania draait vanaf nu in de Nederlandse bioscopen, ook in 3D, IMAX, Dolby Cinema, Dolby Atmos, 4D, ScreenX
Regie:
Peyton Reed
Cast:
Paul Rudd,
Evangeline Lilly
Michael Douglas
Michelle Pfeiffer
Jonathan Majors
Genre:
actie, avontuur, sciencefiction
Duur: 124 min

Wij geven Ant-Man and the Wasp: Quantumania film goodie pakket weg
– een pet
– een stickervel
– een set notitieboekjes
– een sleutelhanger
– een T-shirt (maat M)
– een folding weekend bag
– 2 x 2 bioscoopkaarten
-Maak gratis een account aan als je die nog niet hebt
-Zorg dat je ingelogd bent
-Zorg dat je gegevens kloppen
-kies categorie 'Films Bioscoop'
LET OP: Kun je geen account aanmaken? KLIK DAN HIER
1. Kies hieronder de juiste categorie en een Winactie.
2. Klik op 'deelnemen' en je doet automatisch mee met deze actie!
3. Zorg wel dat je gegevens correct zijn ingevuld!

Bron en foto © Marvel / Photo courtesy of Marvel Studios. © 2022 MARVEL.